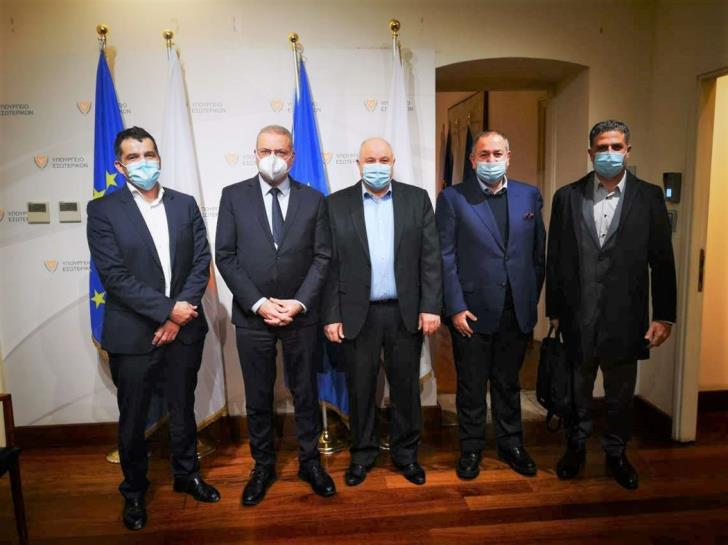 Insider
The proposals of the Pancyprian Association of Land Development and Construction Entrepreneurs in relation to the necessary institutional reforms, were conveyed to the Minister of Interior, Nikos Nouris, by a delegation of the Association headed by the President, Michalis Hatzipanagiotou.
The meeting took place on January 31st and discussed a number of issues related to the land development and construction sector, an area of key importance for the development of the country's economy and the strengthening of employment.
The representatives of the Association thanked both the Minister and the General Director of the Ministry, as well as the officials for their work so far, emphasizing that it is important to continue the interventions for the modernization and simplification of the building development framework.
In this direction, they submitted specific proposals concerning:
Extension of the process of rapid urban planning licensing to larger developments. Acceleration of many procedures, with the implementation of solutions such as self-control and the binding preliminary urban planning permit. Electronic submission of building permit applications for larger developments, throughout the territory, with simultaneous responsibility of the designer for its issuance. Assigning the responsibility of final approval to private designers for small developments and to certified designers for larger ones, in order to speed up the process which today can take up to five years. Initiation of the property issuance process upon completion of the building shell so that it can be transferred to the owner upon delivery of the property.
At the same time, the representatives of the Association underlined the importance of promoting sustainable development methods, noting that the entrepreneurs in the sector are at the forefront of this effort. Specifically, they proposed the increase of the required percentage of energy production from Renewable Energy Sources (RES), from the current 25% to 35%, with the parallel return as an incentive to increase the additional Building Factor from 5% to 10%.
At the same time, the General Director of the Ministry of Interior, Costas Konstantinou, accepted the positive effect that the systematization of the meetings between the Association – Ministry and officials will have, in terms of more effective promotion of the reforms that must be implemented as a matter of priority.
On his part, the Minister of Interior thanked the representatives of the Association for their specific suggestions, while acknowledging the importance of the sector for the economy of Cyprus.