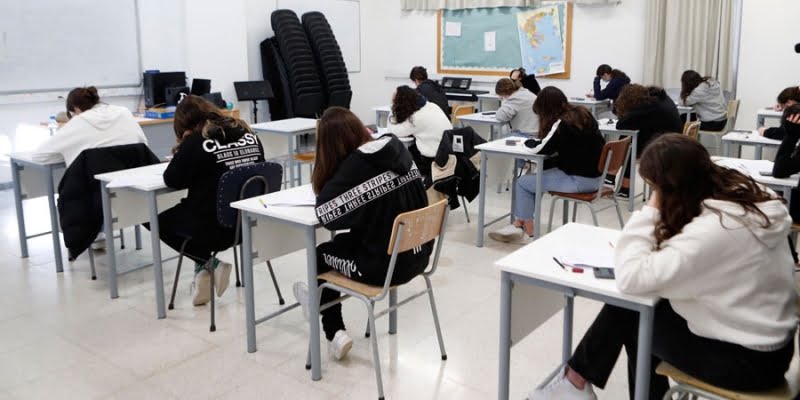 A symbolic protest event for the problems in the schools of Larnaca and the four-month exams, is held on Monday, November 28, by the Federation of Associations of Parents and Guardians of Secondary and Technical Education of Larnaca.
In a written announcement by the Federation, it is stated that "the symbolic event will take place at 12:30 p.m. at Evryviadio High School in Larnaca, as part of the visit of the Education Committee of the Parliament to schools in the city".
It is added that "unfortunately, despite our continuous interventions, the learning conditions in the schools of the city and province of Larnaca are deteriorating, with the children being the first and biggest victims. Overcrowding, increase in mobile classes, serious building problems and inadequacy in classrooms and technological equipment are problems that interfere with the smooth running of the courses».
The school environment, it is noted, "further worsens with the heavy-loaded teaching schedule due to the four-month exams and the pursuit of material." The increase in delinquency incidents is not unrelated to the worsening of the aforementioned problems.
The Federation also states that "as organized parents, we once again express our disagreement about the anti-educational institution of four months. The The Ministry of Education stubbornly refuses to discuss the common positions of the organized parents, teachers and students and not even to improve the suffocating examination schedule, during which in one day the B and C grade students of the Gymnasium will take three lessons.
We have no other choice, the announcement continues, "but to escalate the reaction measures to what is unacceptable happening in Secondary Education and endangering the Public School." The position of the Plenary Assembly of the Federation of Parents of Secondary and Technical Education of Larnaca is unanimous, that in case the competent Ministry continues to ignore our positions, we will take all those measures that will protect our children, not excluding the call for abstinence from exams».
The Federation » invites all parents, members of the Larnaca Parents Associations to participate in the protest event by sending a strong message of defending the right to knowledge of all our children».
< p> Source: KYPE