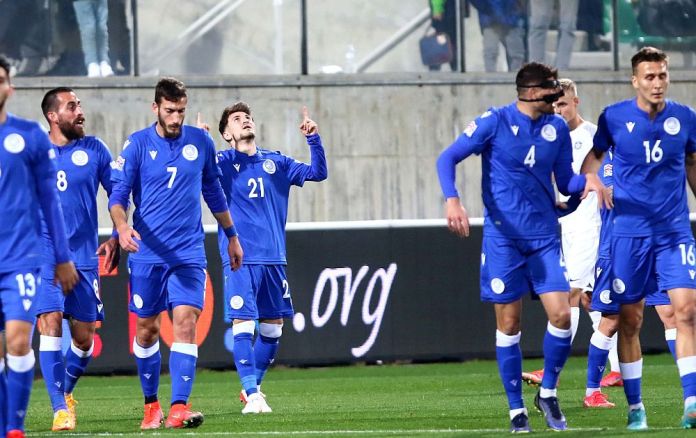 No matter how badly we did in recent years, we did not deserve the fourth category. And this was taken care of by our internationals, with our soulful national team beating Estonia 2-0 in the replay of the Nations League play-offs at the "AEK Arena" and sealing its stay in the third division, relegating its opponent to τέταρτη.
The goals that & # 8230; restored order and thanks to which we avoided the humiliating relegation to the seven "worst" teams of the continent, Tzionis scored them in 19 & # 8242; and Sotiriou at 51 & # 8242 ;, three minutes after Spoliaric was sent off with an (incomprehensible) second yellow card.
Although we played for a half time with less players, our team got out of hand, defended properly and did not allow the guests to believe that they could deprive us of the victory.
Our national team will participate in the next Nations League in the second group of the third category, together with Greece, Northern Ireland and Kosovo. The four races will take place in June and the other two in September.
The race
Our national team started the match with a huge opportunity when in the first minute Tzionis with a shot inside the area could not beat Igonen. The match had a low pace, but our national team was playing better and after a couple of other conditions, we found the way to the net, with the goal of Tzionis at 19 & # 8242 ;, after an excellent diagonal ball by Pieros to Ioannou and assists of the latter in the ace of Sporting Kansas. The Estonians appeared after half an hour, making three phases, with the main one being Sinafski's head at 34 & # 8242; which fortunately did not find a target.
The replay started badly for Cyprus as at 48 & # 8242; Spoliaric was sent off with an incomprehensible second yellow card, as he went to commit a foul, he finally left it to Ioannou and the ref considered that he was late! Three minutes later, however, came the second goal of our national team, which removed much of the stress. Stealing by Tzionis, Papoulis assisting the unguarded Sotiriou and a well-aimed place (51 & # 8242;) for the 2-0! Estonia (forced) increased its speed, threatened in a couple of cases, but the next big opportunity we had with Papoulis at 65 & # 8242 ;, although the guests & # 8230; "Answered" at 67 & # 8242 ;, with Michael and Gogic saving our home. In the rest, Estonia tried to push, but apart from some conditions, it failed to get close to the goal that would put it in the claim for extra time.
Evolution of the fight
End of the fight
90 & # 8242; Change for Cyprus, Pittas instead of Papouli.
-Estonia is pushing, creating conditions, but it is unable to seriously threaten our home.
83 & # 8242; Change for Cyprus, Evangelos Kyriakou instead of Antoniou.
79 & # 8242; Changes for Cyprus, Christofi and Abraham replace Sotiriou and Tzioni.
67 & # 8242; Great phase for Estonia with Sorga's place, Michael first saved and Gogic then removed to the line.
65 & # 8242; Great opportunity for the 3-0 after cooperation between Tzioni-Ioannou, Papoulis sent the ball out very close!
< strong> 62 & # 8242; Three consecutive shots of the Estonians, all against our defenders.
57 & # 8242; Opportunity for Estonia, Zeniov missed with a projection on the second beam.
55 & # 8242; Change for Estonia, Sorga instead of Luka .
51 & # 8242; GOAL, Cyprus 2-0 with Sotiriou! Tzionis stole, he gave to Papoulis and he also to the unguarded Piero who did not make a mistake with a place and doubled our goals!
– His dismissal was unthinkable Spoliaric! Our national team won a foul, Spoliaric went to execute, finally left it to Ioannou and received a second yellow card for & # 8230; delay!
48 & # 8242; Spoliaric is sent off with a second yellow card, Cyprus continues with ten!
46 & # 8242; Changes for Estonia, Puri instead of Siniavski and Zeniov instead of Anier.
– Out of three finals, each team had in the first part, two in the goal for Cyprus, none for the Estonians. /p>
Τέλος ημιχρόνου
44 & # 8242; Papoulis's shot just outside the area, missed.
43 & # 8242; Yellow card to Spoliaric.
42 & # 8242; Slave by Klavan, over the beams.
– It is Estonians are better lately and they are looking for a draw. Our national team should hold the ball longer.
34 & # 8242; First good phase for the guests with Siniafski turning his head from a side but close position, fortunately he did not find a target.
30 & # 8242; First final for Estonia with a shot by Anier, missed.
– Really great goal by the Sporting Kansa player, which gives us the lead for stay. If we keep a clean sheet again, the goal is achieved.
19 & # 8242; GOAL, 1-0 Cyprus with Tzionis! Collars! Excellent diagonal ball of Pieros to Ioannou, he gave to Tzionis who maneuvered a little outside the area and with a terrible fake shot sent the ball to the crossbar and inside!
13 & # 8242; Header after a foul by Tzionis, counter, corner.
12 & # 8242 ; Yellow card to Tam.
11 & # 8242; Good condition for our national team with Ioannos turning from the left, Igonen falls and picks up.
– The rhythm in the game dropped, he did not give us & # 8230; feathers the big phase we made.
– "Touch" & # 8230; our national dream start. This is a great opportunity for Tzionis.
1 & # 8242; Huge phase for Cyprus at 30 & # 8243 ?! Tzionis shot from a good position in the area, Igonen repulsed, then Papoulis entered the phase, was overthrown by the Estonian goalkeeper, but there is no penalty as he was indicated in an offside position.
– The match has started. Good luck to our national team!
CYPRUS : Michael, Panagiotou, Hampos, Gogic, Antoniou (83 & # 8242; Ev. Kyriakou) , Ioannou, Artymatas, Spoliarits, Papoulis (90 & # 8242; Pittas), Tzionis (79 & # 8242; Abraham), Sotiriou (79 & # 8242; Christofi)
ESTONIA : Igonen, Metz, Tam, Klavan, Luka (55 & # 8242; Sorga), Oyama, Kreida, Siniavski (46 & # 8242; Puri), Vasiliev, Anier (46 & # 8242; Zenioff), Sapinen
YELLOWS : 43 & # 8242; Spoliarits / 12 & # 8242; Ταμ
ΚΟΚΚΙΝΕΣ : 48 & # 8242; Spoliaric (2nd yellow) / & # 8211;
REFEREE : Arthur Dias (Portugal)