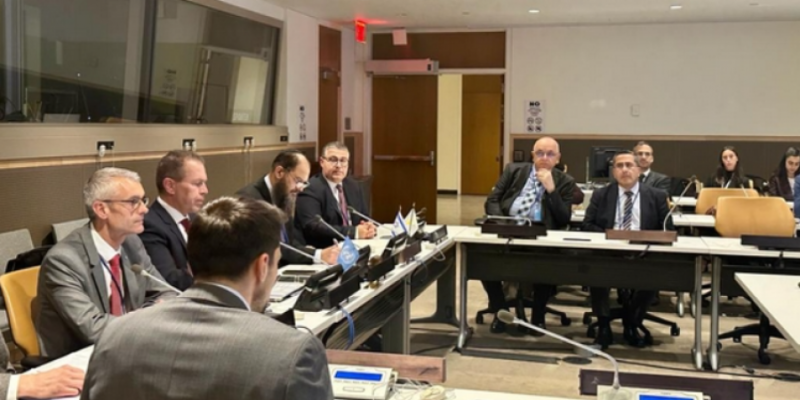 A High-Level Review Meeting of the Sendai Framework for Disaster Risk Reduction (UN Office for Disaster Risk Reduction – UNDRR) was held at the UN headquarters in New York, from May 18 to 19.
On the sidelines of the meeting, an event on "Regional Cooperation: Strengthening National Resilience and Preparedness" was organized on May 18. by the Permanent Mission of Israel, in cooperation with the Permanent Mission of Cyprus, the US Federal Emergency Management Agency and the Union for the Mediterranean.
In his introductory speech, the Advisor to the President of the Republic of Cyprus for Political Defense and Security Matters, Mr. Giorgos Boustras, emphasized, among other things, that Cyprus is particularly interested in developing further capabilities in the field of civil protection, especially through regional cooperation. He therefore emphasized that tripartite and multilateral partnerships, as well as the 3+1 scheme (Cyprus, Israel, Greece + USA) can help develop a "positive agenda" in the Southeast Mediterranean region, with a background in civil protection and humanitarian action. Referring to the disasters, such as the recent earthquakes in Turkey and Syria, as well as the intensifying climate crisis, he emphasized that they highlight the need for regional cooperation in the field of civil protection. He cited, as examples of such regional cooperation, the PDEX-JIP project funded by the European Civil Protection Mechanism, in which Jordan, Israel and Palestine cooperated on the basis of a major earthquake scenario.
< p> The coordinator of the meeting was the Permanent Representative of Israel to the UN, Ambassador Gilad Erdan, while the panel of speakers included, in addition to Mr. Boustra, Captain Laurent Alfonso, European Affairs officer of the French Ministry of the Interior, Mr. Sean Card from the US Federal Emergency Management Agency, and Mr. Kobi Wimisberg, Israel's Director of Strategic Cooperation and Assistance.