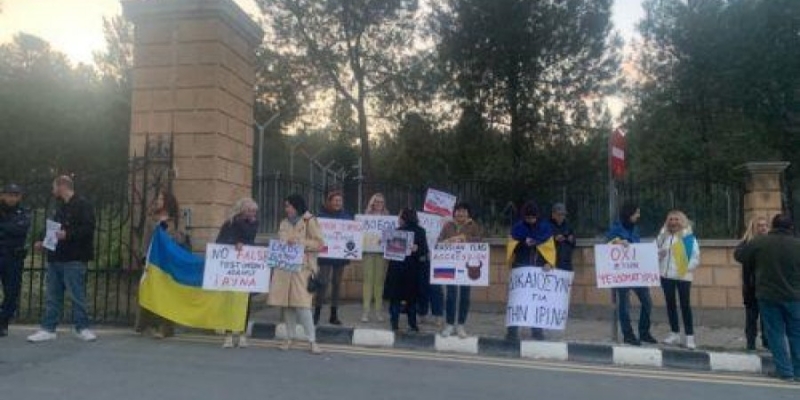 The Ukrainian-Cypriot Friendship Community organized on Friday evening a rally outside the Presidential Palace requesting the granting of clemency to the Ukrainian citizen and permanent resident of Cyprus, Irina Kryvous.
The President of the Community, Tetiana Ioannou , said that through the letter he submitted to the Deputy Minister to the President, Irini Piki, a pardon is requested for Irini Kryvous. "It is not possible for a woman to spend 6 months in prison for such an insignificant thing," he said, adding that he would like the President of the Republic to study the letter and respond next week on what can be done about the matter.
"Personally, I would like to see the judge in the eyes &hellip? and to ask him about 1974. If then the Turks killed his sister, if his neighbors went out into the street with Turkish flags and danced, if his wife, child and mother were captured by the Turks, how would he react? I want him to go to the mirror, look at himself and think,'' said Ms. Ioannou.
Finally, Mrs. Ioannou noted that the representative of the President of the Republic said that President Christodoulidis will study the letter on Monday and will respond soon.
In the letter to the President of the Republic, it is stated that Irina Kryvous , aged 55, who has resided in Cyprus permanently since 2003 and has been naturalized as a Cypriot citizen, was sentenced to 6 months imprisonment on 28 March 2023 for the offense of common assault by the Larnaca District Court, after being acquitted by the court on charges with a racist background.
Furthermore, it is noted that the incident for which she was sentenced to 6 months in prison "was isolated and was solely due to her strong emotional charge due to the death of her brother, just 2 months before, in the Russia-Ukraine war".
< p> Through the letter, the Ukrainian-Cypriot Friendship Community asks President Christodoulides to "consider the mental state of a person in mourning, with his other relatives trapped in war-torn Ukraine".
"In no way do we applaud violence as a means of solving problems", he emphasizes, adding that "incidents of this nature should be resolved through dialogue and discussion".
"The approval of our request we believe that it would be in accordance with the principles of justice, humanity and leniency and would not contradict the purposes of the public interest and the relevant Laws", the letter concludes.
Source: KYPE