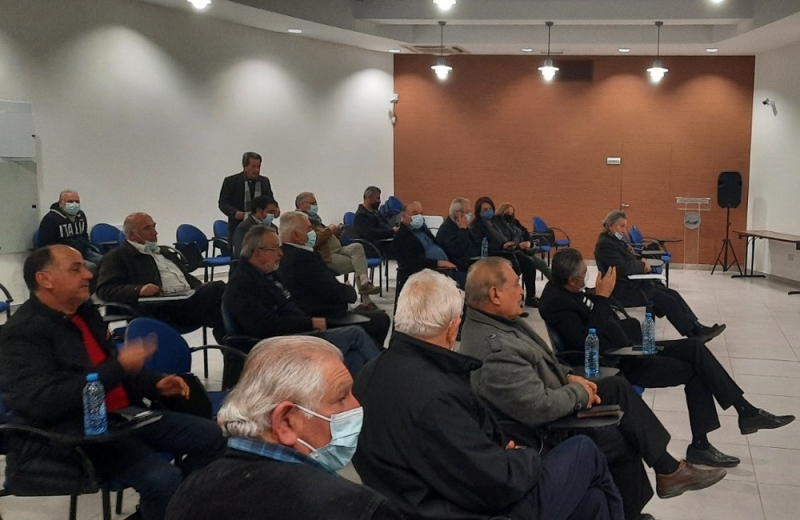 Communities are appealing to the court in order to annul the law that was recently passed by the Parliament and concerns the reform of the Local Self-Government. The reason is the mergers of communities with municipalities that decided the party kitchens for which there are strong objections.
The decision to appeal to justice was taken at a meeting held a few days ago in Skarinou between the leadership of the Union of Communities and Commonwealths (see photo) who react by merging with municipalities, such as the communities of Agios Tychonas, Armenochori and Diocese of the province. Limassol, the community Delikipos in the province of Larnaca and the communities of Agia Marina, Androlikou, Argaka, Gialia, Drousia, Kritou Tera, Makounta, Neo Chorio, Nea Dimata, Pelathousa, Pomos, Tera and Polis Chrysochous in the province of Paphos. p>According to the Union of Communities, the meeting was briefed on developments and noted the strong protest of these communities for the fact that their concerns and disagreements were not taken into account as expressed in a timely manner in letters from their community councils, both to the Ministry Internal Affairs and the Parliamentary Committee on Internal Affairs, as well as in the parliamentary parties themselves. The strong frustration of the community leaders for the parliamentary parties was also expressed, especially for the MPs who voted in favor of the bills and the amendments, ignoring, as they complained, about the adverse consequences that their decision will have on the affected communities. p>
The presidents of the communities that disagree with the amalgamation of municipalities reaffirmed their determination to proceed with the taking of all appropriate measures to overturn the decision of the Parliament. In this direction, they decided to proceed with the taking of judicial measures for the annulment of the legislation that was passed for the reform of the Local Self-Government. According to a legal opinion provided by complaining community leaders, the necessary legal basis seems to exist.
Letter to the President
In addition to the legal measures, it was put on the table and taking strong protest measures. However, before any action was taken, the presidents of these communities, as a sign of goodwill, decided to request a meeting with the President of the Republic through the Union of Communities to explain their positions. The Union of Communities has sent a letter and is waiting for President Anastasiadis to schedule the meeting.
As it became clear yesterday in a press release, the Union of Communities supports and adopts the positions of the communities that disagree with their union with municipalities in in the context of the Local Government reform and therefore argues that, even now, the legislation in question should be amended in order to respect the positions of these communities.