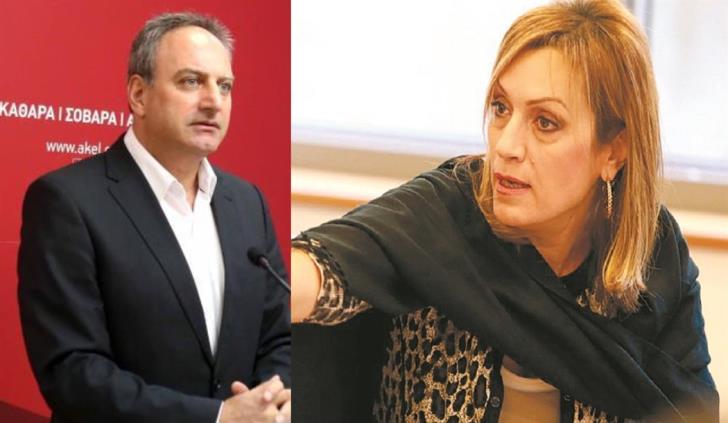 Frixos Dalitis
The nomenclature for the presidential elections and the debate over the name of former Health Minister George Pamporidis have opened an internal front in Hezekiah Papaioannou. The strong disagreements that were recorded at the meeting of the Central Committee on Saturday by its members, seem to reflect a large part of the party base.
The maintenance in the discussion of the name of George Pamporidis as the possible person who could lead the opposition front for change, mobilized some reactions, culminating in the strong position of the New Forces MP Irini Charalambidou, which also AKEL's New Forces have no real say in the party's decision-making centers.
Through her public statements yesterday, in two cases, Ms. Charalambidou indicated that she can not believe how an alarmist can be a choice for the world of the Left. A report. which essentially responds to the statements of the day before yesterday of Stefanos Stefanos that the only time that AKEL chose a candidate of its own was in 2008, meaning Dimitris Christofias. What the circles of the Left emphasize, however, is that AKEL may have supported right-wingers for the Presidency in the past, but it was never alarmed in its choices.
READ ALSO: Presidential: The ball on the court of DIKO
The scenario in support of Pamporidis' candidacy has provoked a mobilization on Social Media in recent days, with references to his previous posts against AKEL and Dimitris Christofias. A mobilization that essentially aims at deconstructing the Pamporidis candidacy scenario. However, he watches without any comment the whole discussion that takes place around his name.
Stefanos Stefanou wanted to lower his voice, but with a clear suggestion to Irini Charalambidou. "Everyone has to be patient. We have procedures in the party that includes the New Forces. "We have clarified this thing," he said.
Also in his statements on the radio of Active, the secretary general of AKEL stated that the name of George Pamporidis is not in the list of pre-exclusions and reiterated that in the Central Committee, it was said that not including in the discussion the party leaders will facilitate the effort to find consents.
READ MORE IN THE FILELEFTHEROS PRESS