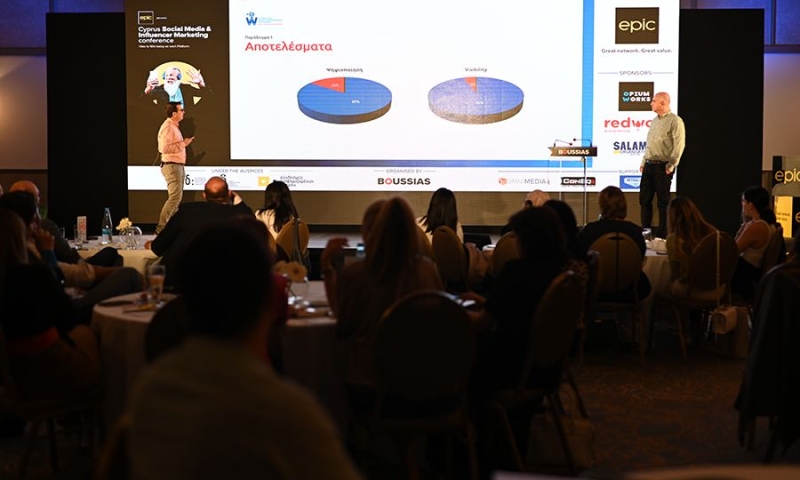 Red Wolf PR & Advertising had the pleasure of participating in Social Media & Influencer Marketing Conference of BOUSSIAS Cyprus, where the creation of the Red Wolf Academy was announced, an academy unique for Cyprus!
The General Manager of Red Wolf, Ilias Antoniadis and the Head of Digital, Filippos Siakavaras , shared with the attendees their knowledge and experiences in the field of Social Media, Digital Marketing and in particular Influencer Marketing.
The presentation concluded with the announcement of the Red Wolf Academy, a series of training seminars in the field of Marketing, where they are academically supported by CIM-Cyprus Business School, the leading Business School in Cyprus.
The General Manager of Red Wolf, Ilias Antoniadis, speaking about Red Wolf Academy, said: "Red Wolf Academy is the new, promising move of Red Wolf! An effort in the context of our social corporate responsibility, to strengthen the field of advertising and marketing in Cyprus. The constant search for knowledge and the new is what sets us apart at Red Wolf and we want to convey this rationale to the public!
In the training seminars, speakers will be personalities from the advertising industry in Cyprus and abroad. Participation in the Red Wolf Academy is free for professionals as well as new graduates in the field of Communication.
Through a short video, the CEO of CIM-Cyprus Business School, Dr (hc) Yiagos Chatzigiannis, welcomed the energy. In particular, he said: "We would like to congratulate Red Wolf for its initiative to establish the Red Wolf Academy. We are very happy that at CIM – Cyprus Business School we have decided to support this energy through the transfer of know-how to the executives of Cypriot companies".
The key question was how you can survive in the "Wild West of Influencers". Ilias Antoniadis and Philippos Siakavaras, took us from the time of Marilyn to today and Kylie and analyzed the differences between influencers and celebrities while simultaneously presenting successful case studies from clientele of Red Wolf PR & Advertising!
Specifically, in the campaign for the digitization of accounts of the Nicosia Water Supply Board, using celebrities, 95% visibility was achieved in the campaign. Celebrities were also chosen in the campaign for the launch of the Radisson Blu Larnaca International Marathon. But then when the event was established, international influencers were used even on a micro level to attract registrations, with the result that participations show a steady annual increase!
"Influencer marketing has developed rapidly in recent years. But they need well-thought-out choices to be effective. We presented case studies in which we highlighted the importance of the right options and the metrics we used for the success of the campaigns", said the Head of Digital of Red Wolf PR & Advertising, Filippos Siakavaras.
Get informed and register at Red Wolf Academy at the following link: https://www.redwolf.com.cy/red-wolf-academy/
< iframe width='300px' height='500px' src='https://www.adstorebluebird.cy/api/banner/ServeBanner?zoneId=2734' frameborder='0' scrolling='no'>