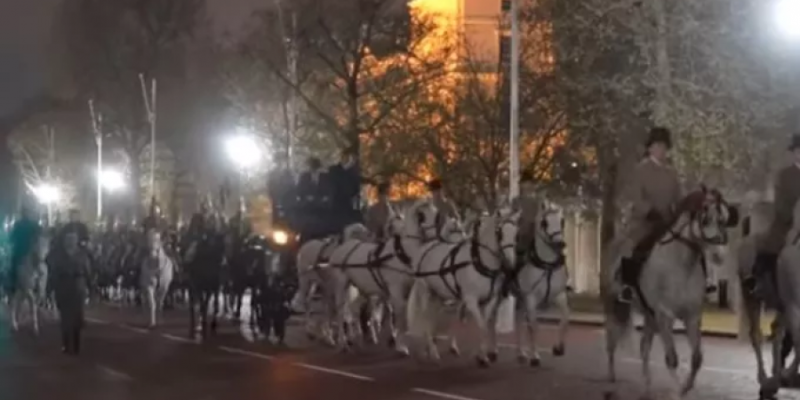 Cavalry of the British armed forces and mounted officers of the royal household took advantage of the empty streets around Buckingham Palace overnight on Monday and took part in one of the rehearsals for the official procession as part of the coronation ceremony of King Charles and of Queen Camilla, which will take place on May 6 in Westminster Abbey.
The rehearsal lasted until the early hours of the morning and attracted the attention of the few Londoners and visitors who were in the area.
The coronation ceremony will feature the largest military ceremonial operation for 70 years, with more than 6,000 members of the armed forces from Britain and Commonwealth countries taking part.
As the countdown to the ceremony with the 2,200 guests has begun, the Palace has begun to give more details about what will happen.
On Monday, the official coronation program was released, with British media focusing on the publication's inclusion of a photograph of the royal couple with the Duke and Duchess of Sussex, Harry and Meghan (along with William and Kate).
As it has been announced, Prince Harry will eventually attend his father's coronation, but without his wife and children, who will stay at home in California.
According to reports, Harry's decision to attend was made after a "heated discussion" with the king. However, the 38-year-old prince is not expected to have a special role in the ceremony, nor to attend the other appearances of the active members of the royal family.
At the same time, the Palace announced the dish chosen by the royal couple to celebrate the historic ceremony, the "coronation kiss". It is a tradition that follows the Indian-inspired "coronation chicken" who had been chosen by Queen Elizabeth at her own ceremony in 1953.
Spinach, bean, tarragon, cheddar cheese and sour cream tart can be cooked by anyone, with variations on the ingredients, as the Palace has also published the recipe.
The hope is that the new quiche will be in outdoor dining tables that will be set up in the country's neighborhoods the day after the coronation, as part of the events called 'Big Lunch' which are planned.
On the same evening, Sunday 7 May, a big concert will be organized at Windsor Castle. Artists confirmed to take part include Take That, Lionel Richie, Andrea Bocelli and Katy Perry.
Source: KYPE