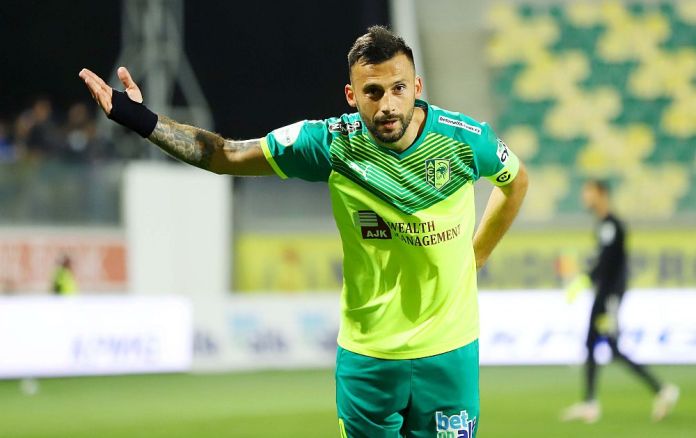 "I can not describe it in words. They respect me and I respect them ", said Ivan Triskovski about the Anorthosis team and their applause to him after the victory of AEK at "Antonis Papadopoulos" on March 5.
" We established a relationship with Anorthosis. I respect her very much " he said tonight (18/4) after his new goal (on the day of his birthday) against" Kyria ". And the & # 8230; relationship that the North Macedonian striker talked about, reached unreal numbers. More specifically, in 23 goals!
Triskovski also scored in his team's fourth game this year against the blue and whites, but also in the sixth series – as he found the net in both games of last year's playoffs – scoring eight goals in those six games. As a result, & # 8230; widens Anorthosis' distance from the other teams, in the long list of its "victims".
In his long presence on our island (nine seasons plus three months), the 35-year-old player has scored 132 goals against the Cypriot teams and 23 of them came against the "Lady". To understand how huge this number is, suffice it to mention that the second & # 8230; His most frequent victim, Ethnikos, conceded 11 goals from Triskovski, followed by Apollon with ten.
The North Macedonian reached 20 goals with the AEK jersey against Anorthosis, with 18 of them having been scored in championship games and the other two in the cup institution. Against the team of Famagusta he scored three more times with his other teams and specifically once with the jersey of the Union and twice with that of APOEL.
See the "map" of Triskovski's goals
THE 97 GOALS IN THE CHAMPIONSHIP WITH AEK:
ΑΝΟΡΘΩΣΗ 18
ΑΠΟΛΛΩΝ 10
ΕΘΝΙΚΟΣ 9
ΟΜΟΝΟΙΑ 8
ΔΟΞΑ 7
ΕΡΜΗΣ 7
ΑΕΛ 6
OLYMPIAKOS 6
UNION 5
APOEL 4
PAFOS 3
ARIS 3
NEA SALAMINA 2
AEZ 2
ALKI 2
KARMIOTISSA 2
PAEK 2
AGIA NAPA 1
ΤΑ 10 ΓΚΟΛ ΣΤΟ ΚΥΠΕΛΛΟ (ΟΛΑ ΜΕ ΑΕΚ):
ΠΑΕΕΚ 3
ΚΑΡΜΙΩΤΙΣΣΑ 3
ANORTHOSI 2
NEA SALAMINA 1
ARIS 1
HIS 107 GOALS WITH AEK IN CYPRUS:
ΑΝΟΡΘΩΣΗ 20
ΑΠΟΛΛΩΝ 10
ΕΘΝΙΚΟΣ 9
OMONIA 8
DOXA 7
HERMES 7
AEL 6
OLYMPIAKOS 6
UNION 5
KARMIOTISSA 5
APOEL 4
ARIS 4
PAEK 5
PAFOS 3
NEA SALAMINA 3
AEZ 2
ALKI 2
AGIA NAPA 1
ΤΑ 8 ΓΚΟΛ ΤΟΥ ΜΕ ΤΗΝ ΕΝΠ ΣΤΟ ΠΡΩΤΑΘΛΗΜΑ:
ΠΕΓΕΙΑ 4
ΠΑΦΟΣ 2
ANORTHOSI 1
HERMES 1
TA 17 GOALS WITH APOEL IN THE CHAMPIONSHIP:
ΑΕΚ 5
ΑΝΟΡΘΩΣΗ 2
ΕΘΝΙΚΟΣ 2
ΠΑΦΟΣ 2
ΑΕΛ 2
ΕΝΠ 1
ΔΟΞΑ 1
PEGIA 1
ALKI 1
THE 132 GOALS IN CYPRUS
ΑΝΟΡΘΩΣΗ 23
ΕΘΝΙΚΟΣ 11
ΑΠΟΛΛΩΝ 10
ΟΜΟΝΟΙΑ 8
ΑΕΛ 8
ΕΡΜΗΣ 8
ΔΟΞΑ 8
PAFOS 7
OLYMPIAKOS 6
UNION 6
KARMIOTISSA 5
PEGIA 5
AEK 5
PAEK 5
APOEL 4
ARIS 4
ΝΕΑ ΣΑΛΑΜΙΝΑ 3
ΑΛΚΗ 3
ΑΕΖ 2
ΑΓΙΑ ΝΑΠΑ 1
ΤΑ 20 HIS EUROPEAN WITH AEK:
FOLGORE 4
LEFSKI 4
STOURM GRATZ 4
DANDALK 2
ΓΑΝΔΗ 1
ΚΛΙΦΤΟΝΒΙΛ 1
ΣΠΑΡΤΑΚ ΜΟΣΧΑΣ 1
ΛΙΝΚΟΛΝ 1
ΛΕΒΕΡΚΟΥΖΕΝ 1
ΖΥΡΙΧΗ 1
TA 2 ΕΥΡΩΠΑΪΚΑ ΤΟΥ ΜΕ ΤΟΝ ΑΠΟΕΛ:
ΤΑΟΥΡΑΣ 1
ΣΑΧ TAP 1