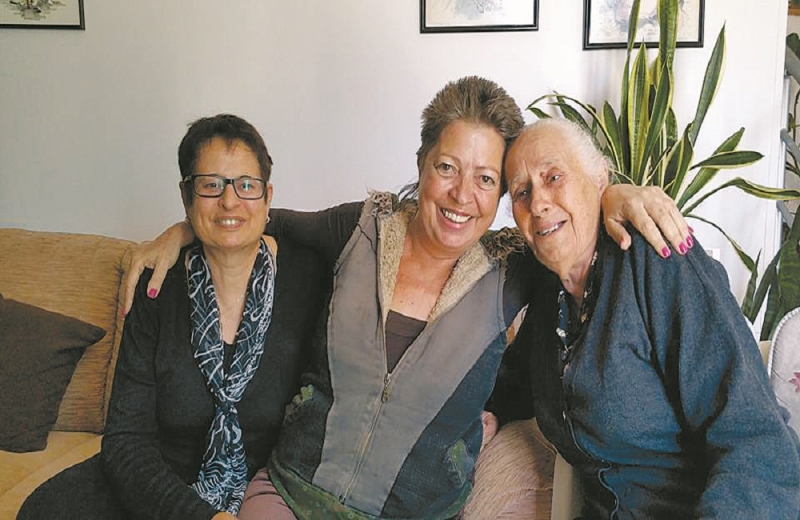 caramel_cy@yahoo.com
Tel: 99 966518
Panagiota Charalambidou, whose husband had been "missing" since 1974 from Gialousa, was waiting for news of his fate, but passed away waiting, without seeing her husband's burial place. I was very sad when I heard that he had died a few years ago. She was not the first to die waiting for the return of the bones of her beloved, a proper burial, some information about the fate of her "missing" husband. I had visited her in her small refugee house after the funeral of a "missing person", since she lived in the area where the funeral took place. Anna's daughter was with us.
I had taken photos of her youth, photos with her "missing" husband and I had sat down with her, drinking coffee and talking. She had such a beautiful smile despite her suffering – some relatives lose their smile and their life is bitter, but not Panagiota, it was not like that, she was smiling and shining, full of love, and when I learned that she died a few years ago, I felt sad and rage for all those who do not help in the search for the "missing". Those who have the opportunity to speak but are silent. Those who spend their days idle and do not do much to find information about the "missing". Those who use the pain of relatives to "gain" something for themselves. Shame on all those who made her suffer. Rest in peace, dear Panagiota.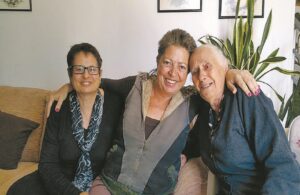 Together with Panagiota Charalambidou and her daughter Anna, in her small refugee house five years ago.
The case of Ishmael
A few weeks ago, another friend, Emirali Hodja, died. He was very worried about his son-in-law, whose father Ismail Ismail had been "missing" since January 1964. For those of you who do not have a "missing" relative, it is difficult to understand the psychology that prevails in the home of a close relative of a "missing" ». Yusuf Ismail, Ismail Ismail's son, waits all his life for any information about his father's burial place, to pick up and bury his bones and move on with his life. Once, one of my Greek Cypriot readers showed us a possible burial site in the dead zone around Kaimakli and it took years of efforts by the Cyprus Investigative Committee for Missing Persons – apparently they could not find my burial site, the reader in the meantime he had already died and so far there was nothing else. Ismail Ismail was in a taxi returning from Nicosia International Airport to the village of Louroutzina on January 31, 1964, when both taxi driver Mehmet Hasan Onbashi and Ismail Ismail became "missing". The taxi, which was a Vauxhall Cresta with registration plate TR445, was reportedly abandoned for a few days in the area by & # 8217; where my reader picked us up and later moved. Our reader's friend as he walked had seen a hand protruding from the side of the road – apparently while burying someone in a hurry, the hand was left out. He remembered this and we got "permission" from the UN to enter the dead zone, so that my reader and his friend could come and try to locate the possible burial site. Xenophon Kallis, who was the mastermind in finding all the important information about the "missing" on both sides, found maps and aerial photographs that showed from above the streets that existed in those days. Now, there were no roads, no visible dirt roads, and the bulldozer was trying to clear the vegetation so she could roughly point out that it was the dirt road where my reader's friend walked in those days and that he had seen someone's hand protrude from the possible burial place.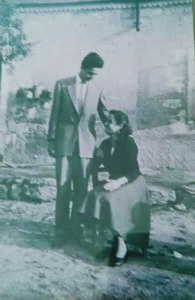 Panagiota Charalambidou with her "missing" husband. Old photo from Gialousa.
However, the excavation lasted only one day and they stopped the same day, after someone had told the archaeologists of the CMP excavation team that there may be mines there. It took many years for UNFICYP and the CMP to clarify that there were no mines there, so that the excavation could continue. By then, my reader, who had given us all this information, had died – let him rest in peace – but his friend was alive. I do not know if he was contacted during the new excavations or if the excavation was in the area he had indicated – I could not go there again to see. But Yusuf Ismail, whose father may have been buried there, went daily with his wife and sat there watching the excavations. In the end, they could not find anything – did the body or bodies move after my reader's friend saw his hand and talked about it? We know stories that burial sites were moved to ensure that the "missing" would not be found – was this another such case? Was Ismail Ismail or anyone else really buried there? What had happened; After 60 years, we are still trying to find answers and Yusuf Ismail is still waiting for answers.
Michalis Giagou Savva tried to help Yusuf Ismail locate his father's burial place, but the incredible silence of the Cypriots prevented any further progress. We still do not know what happened that night when Ismail Ismail was returning from the airport and going to his village by taxi and disappeared along with the taxi driver and the taxi.
Taxis may have been a good place to start, as we know at the time that such cars or trucks were used – sometimes by the military, sometimes painted and rarely disassembled. Because in most cases of "missing persons" there was always the involvement of the "deep state", it was "easy" to do so in those days. Sure, the taxi had a number that could be traced, right? Unless disassembled.
The truck
We had found such a truck in Kokkinotrimithia – it was the truck of a "missing" Turkish Cypriot since 1963. Rifat Salih was transporting oranges from Lefka to Famagusta with this truck. Together with a young boy named Ertan Ali, who had gone to help him with the oranges, they took him to Kokkinotrimithia and his truck was lying on the side of the road, full of oranges. Those who took him, after a few days distributed the oranges to the villagers and that is how they remember those days. His bones, along with the bones of the young boy, were found in a well outside Kokkinotrimithia, which was shown to us by one of my good readers from the village and after identification we went to Lefka to bury them. We attended their funerals. In the chain of wells outside Kokkinotrimithia, the bones of a total of seven "missing" Turkish Cypriots were found.
One of my readers had told me that his truck was still in Kokkinotrimithia and we could not believe it until we saw it with our own eyes. We went with my dear friend Maria Georgiadou whose father, mother, sister and brother – four people from a family, imagine! – were all "missing" from Kythrea. Maria and I saw the truck in the center of the village – apparently they had changed the truck and were using it for something else. We spotted a second truck – similar to the first – and that seemed suspicious. After a while, when we checked again, these trucks were no longer there. But it was such an eerie experience, to see the truck that probably belonged to a "missing person".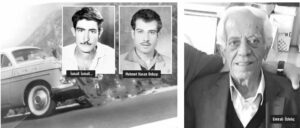 3. Ismail Ismail, the taxi driver Mehmet Hasan Onbashi and the taxi with which they disappeared & # 8230; And Emirali Hodja who died & # 8230;
Again, the chassis number was there, but we could not go and check it on our own – it was not ours our "mission". But these are things that could be considered – if not done so far. A member of the killer's family had taken Rifat Salih's truck and managed to "change" it and continue to use it for many decades, without anyone asking anything – and there is still no question from either side about such atrocities. Both sides are protecting "their own killers." What a shame for Cyprus!
If we do not face such events, we will never be able to move forward in front of this small island.