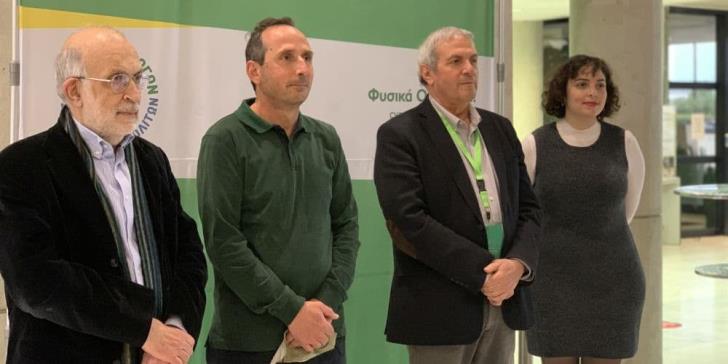 The Liberal
Charalambos Theopemptou continues at the helm of the leadership of the Ecologists after yesterday's internal party elections held within the framework of the 12th congress of the Movement.
The results for the 4 officials of the Movement were as follows:
Charalambos Theopemptou is re-elected president with 164 votes and 66.7%, Alkis Papis vice-president with 158 votes 64.2%, Kyriakos Tsimillis first vice-president with 164 votes 66.7% and Maria Kola second vice-president with 127 votes 51.6%
Yesterday's regular pan-Cypriot congress of the movement was marked by the withdrawal of candidacies for all positions.
READ ALSO:
The Conference of Ecologists began with the withdrawal of candidacies At 31 the candidates for the Central Committee of Ecologists Ch. Theopemptou President of the Ecologists was re-elected
Kyriakos Tsimillis resigned from claiming the position of president and so Charalambos Theopemptou and Sotiris Christou were rival candidates.
Efi Xanthou withdrew her candidacy for the position of Deputy President, and so only Alkis Papis and Sotiris Christou claimed her.
Sotiris Christou, Stavros Alampritis and Phryni Onoufriou withdrew their candidacies for the position of First Vice President.
Loukas Stylianou and Sotiris Christou withdrew their candidacy for the position of second vice president.
In his term of office, Charalambos Theopemptou noted that the biggest challenge they faced was the staffing of the ballot for the Parliamentary elections and the successes referred to the election for the first time of three deputies and the assumption of a Presidency of the Parliamentary Committee, the Environment Committee. He also noted that he took over the presidency of the movement in the fall of 2020 and led the election campaign for the May 2021 Parliament.
Mr. Theopemptou also referred to the need for training of executives, noting that the European Greens have shown interest in some such training programs, while the Greek Greens have also shown interest in co-organizing.
He also spoke about the need to upgrade the Statute which does not provide for any kind of Disciplinary Council, the procedures for removing someone from a ballot paper for parliamentary elections are time consuming, the information required to become a member of the movement, etc. must be modernized.