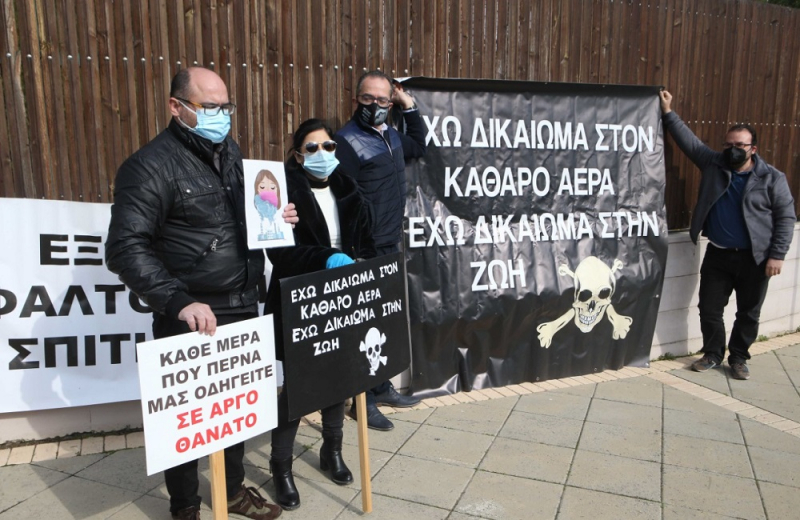 Residents of the parish of Agios Konstantinos and Eleni in Dali staged a protest this morning outside the Presidential Palace, as the decision of the Council of Ministers to move the asphalt factory from the area remains unimplemented, while health problems and nuisance, as they state, intensify.
At 10:30 a meeting was held at the Presidential Palace under the President of the Republic Nikos Anastasiadis, with the participation of the Ministers of Agriculture and Interior, the Head of Technical Services and the Directors of the Departments of Urban Planning and Environment, in order to evaluate the implementation of the decision to move of asphalt production plants.
At the same time, the affected residents were protesting outside the Presidential Palace, expressing, as they state, their indignation for the perpetuation of the problem, which dramatically affects their daily lives and health. With a slogan for "clean air and not toxic", the residents stated that with each passing day, everyone's health is at stake.
"There are children who need to take cortisone to go to school, as the operation of the factory in the morning worsens their asthma, and eventually their cortisone causes other health problems," Kristi Zevki, one of the protesting residents, told KYPE. and added that due to the stifling atmosphere "this morning we could not leave our homes".
With the perpetuation of the presence of the asphalt plant in the area, as the residents explained, people of all ages face respiratory problems, while they are worried that other serious health problems are due to its effects on air quality.
Source: KYPE