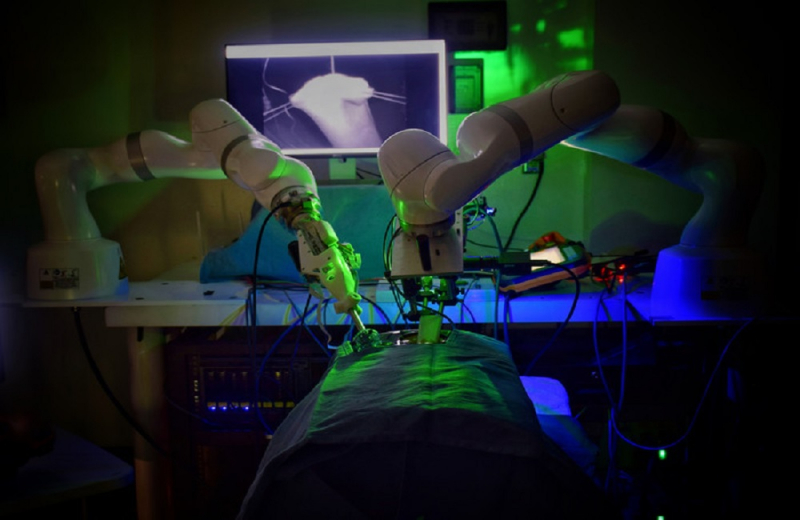 An autonomous robot developed at Johns Hopkins University in the USA successfully performed the first surgeries without any human help, an achievement that is expected to accelerate the use of robotics in medicine.
The STAR (Intelligent Autonomous Tissue Robot) robot performed laparoscopic tests on pigs, with its creators claiming that the system performed "significantly better" than the average surgeon.
The operations involved an intestinal anastomosis, in which the two ends of a severed intestine are connected with sutures, the creators of the robot report.
"Our findings show that we can automate one of the most complex and delicate tasks in surgery," said Axel Krieger, head of the team that describes the system in the prestigious Science Robotics review.
Intestinal anastomosis is the most difficult operation in gastroenterology, the research team points out, and the slightest trembling of the hands can leave gaps and lead to extremely dangerous leaks.
As early as 2016, STAR could suture the bowel, but first the surgeon had to make the initial incision so that the robot could access the bowel.
Since then the system has been improved with new, special stapling tools as well as an advanced three-dimensional imaging system, the images of which are powered by a machine learning algorithm.
Soft tissue surgeries are generally difficult for robots because they can evolve unpredictably. STAR is equipped with a control system that allows it to change the operation schedule in real time, as a surgeon would do.
"STAR stands out because it is the first robotic system to program, adapt and execute a soft tissue surgery plan," said Dr. Krieger.
As there is a general trend in surgery for laparoscopic surgeries, which are performed with special tools through very small incisions, advances in robotic medical technology are gaining in importance, the researchers say.
According to Krieger, "robotic anastomosis is a way to ensure that surgeries that require fine movements and repeatability can be performed more accurately on any patient, regardless of the surgeon's skill."
IN.GR