POWERED BY:
00:26 Sunday
1 May 2022 INSIDER • GOAL • IN-CYPRUS • PROPERTY • CYPRUS-IS • KARIERA LIKE • GOING OUT • XRYSES SYNTAGES • ACTIVE • PHILGROUP ΕΙΔΗΣΕΙΣ & nbsp; SOCIETY & nbsp; INSIDER & nbsp; OPINIONS & nbsp; GOING OUT & nbsp; CULTURE & nbsp; SPORTS & nbsp; AUTO & nbsp; GOOD LIFE & nbsp; USEFUL & nbsp; PRINTED EDITION & nbsp;
ΑΡΧΙΚΗΕΙΔΗΣΕΙΣΠΟΛΙΤΙΚΗΤΟΠΙΚΑΠΑΡΑΣΚΗΝΙΟMEDIAΕΛΛΑΔΑΚΟΣΜΟΣΕΠΙΣΤΗΜΗΠΕΡΙΒΑΛΛΟΝΤΕΧΝΟΛΟΓΙΑΣΥΝΕΝΤΕΥΞΕΙΣΧΡΥΣΕΣ ΕΤΑΙΡΕΙΕΣΚΟΙΝΩΝΙΑΕΙΔΗΣΕΙΣΚΥΠΡΟΣ ΤΟΥ ΧΘΕΣΑΝΑΓΝΩΣΤΗ ΕΧΕΙΣ ΛΟΓΟΕΠΙΣΤΟΛΕΣΣΥΝΕΝΤΕΥΞΕΙΣΔΗΜΟΦΙΛΗ ΣΤΟ INTERNETVIDEOSΑΦΙΕΡΩΜΑΤΑADVERTORIALINSIDERΕΠΙΧΕΙΡΗΣΕΙΣΚΥΠΡΟΣBRAND VOICECAPITALFORBESBLOOMBERG OPINIONΠΡΩΤΑΓΩΝΙΣΤΕΣΚΑΥΤΗ ΓΡΑΜΜΗΧΡΥΣΕΣ ΕΤΑΙΡΕΙΕΣΚΑΡΙΕΡΑΑΠΟΨΕΙΣΑΡΘΡΑ ΣΤΟΝ "Φ"ΠΑΡΕΜΒΑΣΕΙΣ ΣΤΟΝ "Φ"ΤΟ ΜΗΝΥΜΑ ΣΟΥ ΣΚΙΤΣΑΟ ΚΟΣΜΟΣ ΤΟΥ TWITTERGOING OUTTHINGS TO DOCINEMAΜΟΥΣΙΚΗΕΣΤΙΑΤΟΡΙΑBAR/CAFETV ΟΔΗΓΟΣΤΗΛΕΟΡΑΣΗΠΟΛΙΤΙΣΜΟΣΚΥΠΡΟΣΚΟΣΜΟΣΚΡΙΤΙΚΕΣΕΚΔΗΛΩΣΕΙΣΠΡΟΣΩΠΑΑΘΛΗΤΙΚΑΠΟΔΟΣΦΑΙΡΟΜΠΑΣΚΕΤΠΑΡΑΣΚΗΝΙΑΕΛΛΑΔΑΔΙΕΘΝΗΑΛΛΑ ΣΠΟΡΑΠΟΨΕΙΣΣΚΙΤΣΟVIDEOSAUTOΝΕΑΠΑΡΟΥΣΙΑΣΗΑΠΟΣΤΟΛΕΣΑΓΩΝΕΣΚΑΛΗ ΖΩΗΥΓΕΙΑΔΙΑΤΡΟΦΗΕΥ ΖΗΝΑΣΤΡΑΧΡΥΣΕΣ ΣΥΝΤΑΓΕΣΣΥΝΤΑΓΕΣ ΣΕΦΒΗΜΑ ΒΗΜΑΧΡΗΣΙΜΑΦΑΡΜΑΚΕΙΑΓΙΑΤΡΟΙΑΕΡΟΔΡΟΜΙΑΛΙΜΑΝΙΑΤΗΛΕΦΩΝΑΟΠΑΠΚΑΙΡΟΣΣΥΝΑΛΛΑΓΜΑΛΑΧΕΙΑAPPSΠΡΟΣΦΟΡΕΣΕΝΤΥΠΗ ΕΚΔΟΣΗ ΠΟΛΙΤΙΚΗΤΟΠΙΚΑΠΑΡΑΣΚΗΝΙΟMEDIAΕΛΛΑΔΑΚΟΣΜΟΣΕΠΙΣΤΗΜΗΠΕΡΙΒΑΛΛΟΝΤΕΧΝΟΛΟΓΙΑΣΥΝΕΝΤΕΥΞΕΙΣΧΡΥΣΕΣ ΕΤΑΙΡΕΙΕΣ ΕΙΔΗΣΕΙΣΚΥΠΡΟΣ ΤΟΥ ΧΘΕΣΑΝΑΓΝΩΣΤΗ ΕΧΕΙΣ ΛΟΓΟΕΠΙΣΤΟΛΕΣΣΥΝΕΝΤΕΥΞΕΙΣΔΗΜΟΦΙΛΗ ΣΤΟ INTERN ETVIDEOSΑΦΙΕΡΩΜΑΤΑADVERTORIAL ΕΠΙΧΕΙΡΗΣΕΙΣΚΥΠΡΟΣBRAND VOICECAPITALFORBESBLOOMBERG OPINIONΠΡΩΤΑΓΩΝΙΣΤΕΣΚΑΥΤΗ ΓΡΑΜΜΗΧΡΥΣΕΣ ΕΤΑΙΡΕΙΕΣΚΑΡΙΕΡΑ ΑΡΘΡΑ ΣΤΟΝ "Φ"ΠΑΡΕΜΒΑΣΕΙΣ ΣΤΟΝ "Φ"ΤΟ ΜΗΝΥΜΑ ΣΟΥ ΣΚΙΤΣΑΟ ΚΟΣΜΟΣ ΤΟΥ TWITTER THINGS TO DOCINEMAΜΟΥΣΙΚΗΕΣΤΙΑΤΟΡΙΑBAR/CAFETV ΟΔΗΓΟΣΤΗΛΕΟΡΑΣΗ ΚΥΠΡΟΣΚΟΣΜΟΣΚΡΙΤΙΚΕΣΕΚΔΗΛΩΣΕΙΣΠΡΟΣΩΠΑ ΠΟΔΟΣΦΑΙΡΟΜΠΑΣΚΕΤΠΑΡΑΣΚΗΝΙΑΕΛΛΑΔΑΔΙΕΘΝΗΑΛΛΑ ΣΠΟΡΑΠΟΨΕΙΣΣΚΙΤΣΟVIDEOS ΝΕΑΠΑΡΟΥΣΙΑΣΗΑΠΟΣΤΟΛΕΣΑΓΩΝΕΣ ΥΓΕΙΑΔΙΑΤΡΟΦΗΕΥ ΖΗΝΑΣΤΡΑΧΡΥΣΕΣ ΣΥΝΤΑΓΕΣΣΥΝΤΑΓΕΣ ΣΕΦΒΗΜΑ ΒΗΜΑ ΦΑΡΜΑΚΕΙΑΓΙΑΤΡΟΙΑΕΡΟΔΡΟΜΙΑΛΙΜΑΝΙΑΤΗΛΕΦΩΝΑΟΠΑΠΚΑΙΡΟΣΣΥΝΑΛΛΑΓΜΑΛΑΧΕΙΑAPPSΠΡΟΣΦΟΡΕΣ ΕΠΙΧΕΙΡΗΣΕΙΣ ΚΥΠΡΟΣ BRAND VOICE CAPITAL FORBES BLOOMBERG OPINION ΠΡΩΤΑΓΩΝΙΣΤΕΣ ΚΑΥΤΗ ΓΡΑΜΜΗ GOLDEN CAREER COMPANIES
EXCLUSIVE COOPERATION
TOGETHER WITH
Powered by
Next Robotic Surgery: The minimally-invasive treatment of urinary tract diseases HOME • BR • Robotic Surgery: The minimally-invasive treatment of …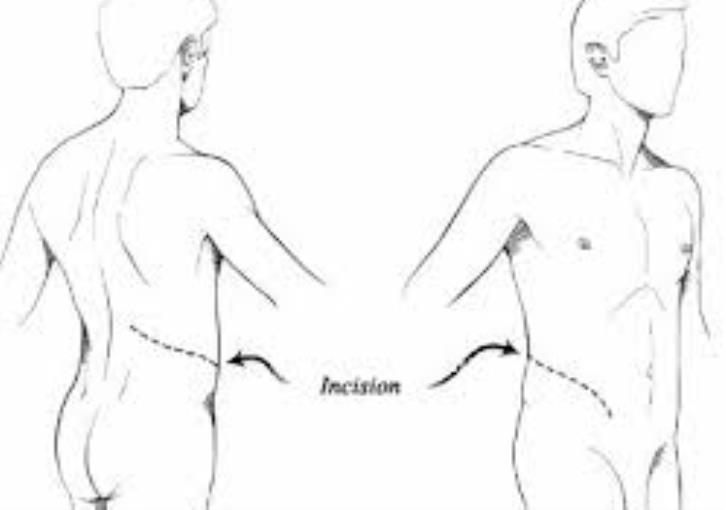 The traditional surgical approach to treat kidney disease
Although this approach has high success rates, skin incisions are associated with a number of problems (postoperative pain, need for painkillers, delayed return to work) and complications (surgical wound infection, postoperative hernias, scar deformity, blood loss and need for transfusions). Minimally invasive surgery is the evolution of classical surgery and aims to treat the same diseases by minimizing the surgical trauma and its complications.
What are the basic principles and benefits of minimally invasive surgery? invasive surgery?
The philosophy of minimizing surgical trauma is based on a number of basic principles:
Access to cavities of the human body through small incisions of the "keyhole" type or through the normal holes of the human body (oral cavity, urethra, vagina, etc.). Precision surgery in a confined space with the use of a camera, magnifier, endoscopes and fine instruments. Avoid injury to normal structures and dysfunction, minimize blood loss, avoid transfusions. faster return to daily activities and work Avoid complications of surgical trauma (infections, postoperative hernias, deformed scars)
The minimally invasive approach has applications in virtually all surgical specialties. Examples are many: orthopedics (arthroscopy), thoracic surgery-pulmonology (thoracoscopy, mesothoracoscopy, invasive bronchoscopy), & nbsp; & nbsp; gynecology (hysteroscopy) and laparoscopic gastrointestinal surgery. Urology is one of the specialties that quickly adopted and developed at a high level the philosophy of minimally invasive surgery. & Nbsp;
What are the applications of Laparoscopic Surgery in the urinary system? b >
In 1991, Ralph Clayman at Washington University in St. Louis. Louis performed the first laparoscopic nephrectomy, proving that a variety of kidney conditions can be treated safely and effectively using laparoscopic access. In 1992, Schuessler also showed that prostate cancer can be treated laparoscopically.
The experience of the last 20 years has shown that the vast majority of benign or malignant diseases of the upper or lower urinary tract can be treated with laparoscopic access, instead of open surgery. Examples of malignancies now treated laparoscopically are kidney cancer (radical or partial nephrectomy), prostate cancer (radical prostatectomy) and bladder cancer (radical cystectomy). Also, laparoscopic access has prevailed as the method of choice for benign diseases such as narrowing of the pelvic-ureter junction (laparoscopic pyeloplasty), nephropathy (laparoscopic nephrocoagulation) and removal of non-functional kidneys.The arsenal of laparoscopic urology has been strengthened in terms of technology and equipment and its results are excellent, both in terms of safety and in terms of efficiency.
Robotic surgery: The latest evolution of the minimally invasive approach to urinary tract diseases
With the use of the da Vinci robotic system, laparoscopic surgery has moved to the next stage.
>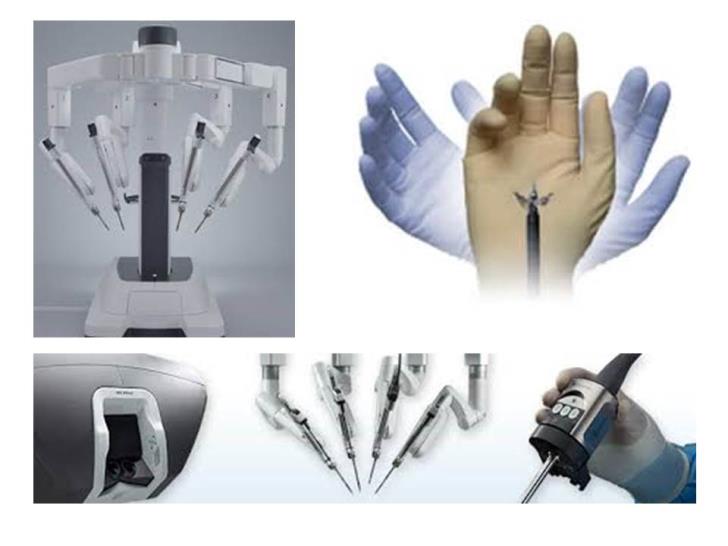 The DaVinci Robotic System
The robotic system allows the surgeon to navigate tools within the abdomen through a console. These tools are inserted into the abdomen through "keyhole" holes and have "8 degrees of freedom" in their movements, imitating the human hand. The optical system of the robotic device also allows three-dimensional vision to the surgeon, in contrast to traditional laparoscopic surgery, where vision is two-dimensional. The combination of a variety of movements, magnification and 3D vision, allows the surgeon to operate safely, efficiently and with a high degree of accuracy. (FDA), in 2000, for performing surgeries. The technique was quickly adopted by many hospitals, first in the US and then around the world.
What are the applications of robotics in urinary surgery?
Today, all surgeries that until recently were performed with either open or laparoscopic access can be performed robotically. Robotic radical prostatectomy, for example, is the most common surgery in the United States for prostate cancer, replacing laparoscopic surgery, and one of Europe's most experienced centers, the Karolinska Institute in Stockholm, recently celebrated the 15th anniversary of its first robotic surgery. cystoprostatectomy.
The robotic system also has important applications in surgeries that require complex reconstruction of the urinary system, such as partial nephrectomy to remove small kidney tumors while preserving the rest of the renal tissue, and pyeloplasty for difficult cases of pelvic-urinary stenosis. Recently, it has also been shown that for particularly complex surgeries for bladder cancer, such as radical cystectomy and orthopedic neocyst formation from the intestine, the robotic method is a safe treatment option. & Nbsp; & nbsp;
Robotics & nbsp; DaVinci Xi platform: State-of-the-art technology in the service of Medicine
By 2014, three different models of robotic system evolution (DaVinci S, Si, X) were presented with continuous improvements in terms of their technological characteristics. The top DaVinci Xi model is now available to surgeons worldwide. The main difference from previous models is that robotic arms are more flexible, more accurate and more independent in their operation, accurately reproducing the movements of the human hand, even in the most difficult and demanding conditions (such as in extremely obese patients) . This improves the surgical technique, makes it more flexible, accurate and safe.
The DaVinci Xi features state-of-the-art dual-image synchronization technology to ensure focus-free technology and eliminate blurred images, as well as the highest available surgical field imaging (Crystal Clear) with a 3D 3D lens system that allows you to zoom up to and 15 times for very precise, steady and detailed movements.
It requires manipulation by a specialized surgeon, who is sitting in front of a special control console of the robot, through which he performs the operation by moving special levers that have been adjusted to his fingers, as if using his own hands. Every movement of the surgeon is reproduced with absolute precision and stability in the surgical field by the surgical articulated arms of the robot.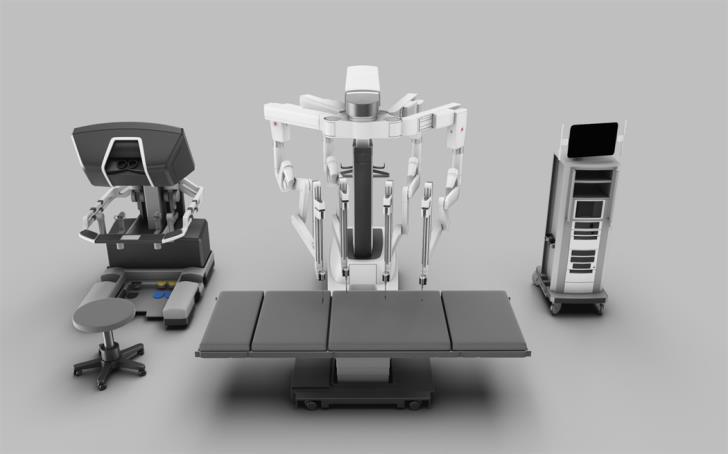 Το Da Vinci Xi
All this is done accurately, since the Surgeon supervises the entire operation through a special screen, which offers him a magnification of the image of the surgical field up to 15 times larger, excellent clarity with more than 16 cm colors (full high-definition), as well as 3D imaging.
All these advanced technological developments result in operations with the DaVinci Xi being performed to the nearest millimeter, with extremely detailed recognition of anatomical structures, with complete elimination of the normal muscular tremor of the human hands, and with excellent human approach and manipulation. , which with open and laparoscopic surgery was impossible to perform
Necessary condition of course for the use of the robotic system is the surgeon to have received special training in the use of the system, since its use differs from the classic open surgery but also laparoscopic surgery. After the relevant training, the surgeon receives international certification as a Robotic Surgeon (Robotic – Console Surgeon).
Apollonio Hospital is now the only hospital in Nicosia that has the DaVinci Xi robotic system. This system is operated only by certified robotic surgeons supported by a specially trained team (anesthesiologists, nurses, technicians).
Filippou Prodromos
MD MA FEBU
Urologist – Robotic Surgeon
Apollonian Hospital
Nicosia – Cyprus