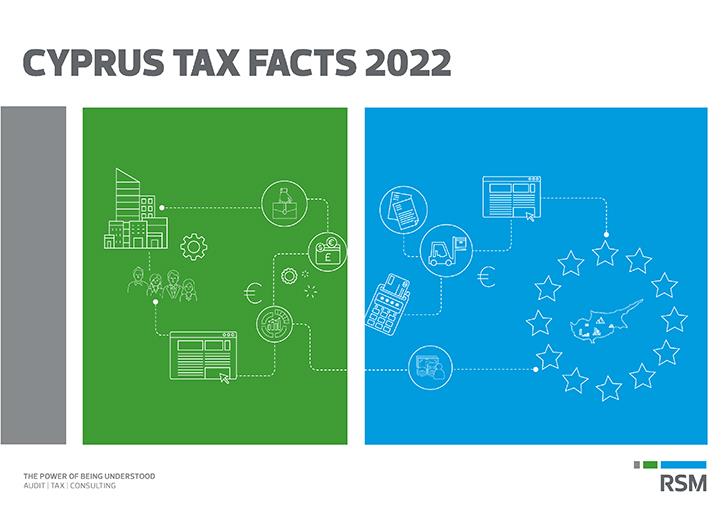 With offices in Limassol, Paphos and Nicosia, RSM is one of the leading professional service providers in Cyprus, offering comprehensive auditing, tax, accounting and consulting services.
RSM in Cyprus is part of RSM International, the 6th largest network of auditing, tax and consulting services in the world, with companies in more than 120 countries, including the top 40 business centers in the world. RSM currently employs over 51,000 people in more than 860 offices in Europe, Asia-Pacific, Africa, the Middle East, Latin America and North America.
Based on our many years of experience and knowledge of the Cypriot tax system, our tax advisors, as every year, gathered the most important tax information addressed to legal entities and individuals in a tax edition, the "Cyprus Tax Facts 2022".
"Cyprus Tax Facts 2022" is an annual publication that includes updates for businesses and individuals on:
Personal tax Corporate tax, Special defense contribution, Capital gain tax, Value Added Tax (VAT) Transfer fees from the Department of Land Registry and Surveying (Transfer fees by the department of land and surveys) Social Insurance General healthcare system (DAC6) Mandatory disclosure requirements – DAC6 Double Tax Treaties Tax deadlines submission deadlines)
The Cyprus Tax Facts 2022 guide is a basic tool for entrepreneurs and a reference point for taxpayers seeking to know general information about personal and business tax issues in Cyprus.
This guide is informative and is not intended to replace any specialized and personalized views that our tax advisors may offer. The information contained in Cyprus Tax Facts 2022 is in accordance with the Cypriot Legislative Framework and the tax procedures followed up to the date of its publication.
If you wish to discuss your tax planning and obligations with our team of tax advisors, contact us today or schedule your own personal meeting at one of our offices in Cyprus.
Also, if you are interested in staying up to date with the latest business news, and receiving financial, advisory, corporate, legislative and tax updates that may affect you personally or your business, subscribe to RSM Cyprus Business Insights and News .
Download Cyprus Tax Facts 2022 – RSM edition