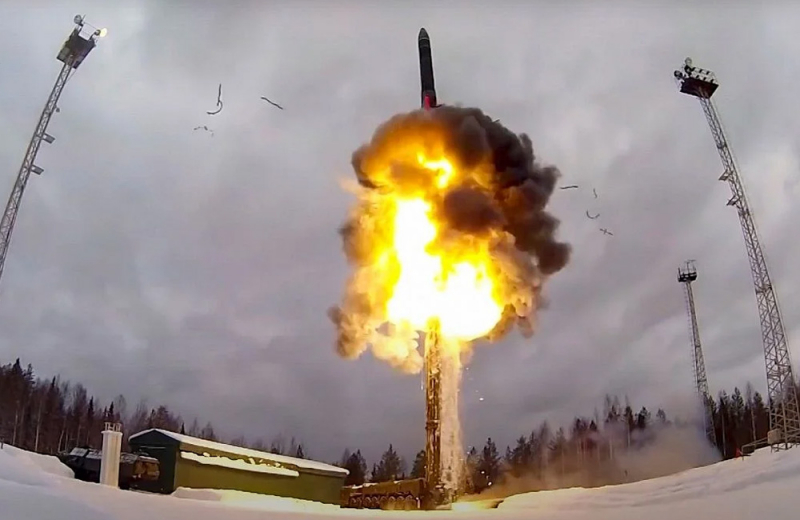 Russia has made a shocking admission that it uses thermobaric weapons in Ukraine, according to the British Ministry of Defense.
harnesses the power of thermobaric rockets. " twitter.com/DefenceHQ/status/1501621370614173701?ref_src=twsrc%5Etfw[/embed]
What are thermobaric weapons?
Thermobaric weapons, also known as vacuum or fuel-air weapons, are so named because they destroy the target with a combination of heat and pressure waves.
p>
In this category belongs the Russian bomb FOAB, or "Father of All Bombs", which is considered the most powerful non-nuclear weapon with a capacity of 44 tons of TNT. Other thermobaric weapons are fired with rockets or portable launchers.
Explosive cloud
Most conventional weapons contain an explosive and an oxidizing agent required to burn these explosives. Thermobaric weapons, on the other hand, contain only fuel and use atmospheric oxygen as the oxidizing agent.
The first stage of the explosion creates a large cloud of vaporized fuel. In the second stage, the cloud ignites and creates an explosive wave of prolonged duration and extremely high temperature.
Due to the ability of the fuel cloud to penetrate indoors, thermobaric weapons are considered ideal for attacks on underground installations, forts, shelters and caves.
In addition, the sudden contraction of gases after the initial shock wave causes a sharp drop in atmospheric pressure, which causes lung rupture and other internal injuries.
Such weapons were used by the United States in the Vietnam War, as they proved more effective than napalm bombs in clearing large areas of jungle for helicopter landings. Most recently, they were used in US bombings against the Taliban and Afghanistan in the highlands of Afghanistan.
Small thermobaric weapons are also said to have been used by the Russian military during the invasion of the Russian parliament during the 1993 constitutional crisis, as well as at the Battle of Grosney in 1999-2000. Portable thermobaric rocket launchers are also said to have been used by Russia in the Beslan hostage case in 2004.
Horrible death
Humanitarian organizations have condemned the use of thermobaric weapons as an inhumane tactic.
In 2000, Human Rights Watch cited a study by the US intelligence service as saying that "the mechanism for killing live targets is unique – and unpleasant […] What kills is the wave pressure and, further, the subsequent dilution of air (vacuum) which causes the lungs to rupture. " ".
According to a CIA report, the effects of thermobaric weapons indoors" are enormous. Those near the flashpoint disappear. "Those who are further away are more likely to suffer internal injuries, such as rupture of the eardrum and inner ear, severe concussion, ruptured lung and possibly blindness."