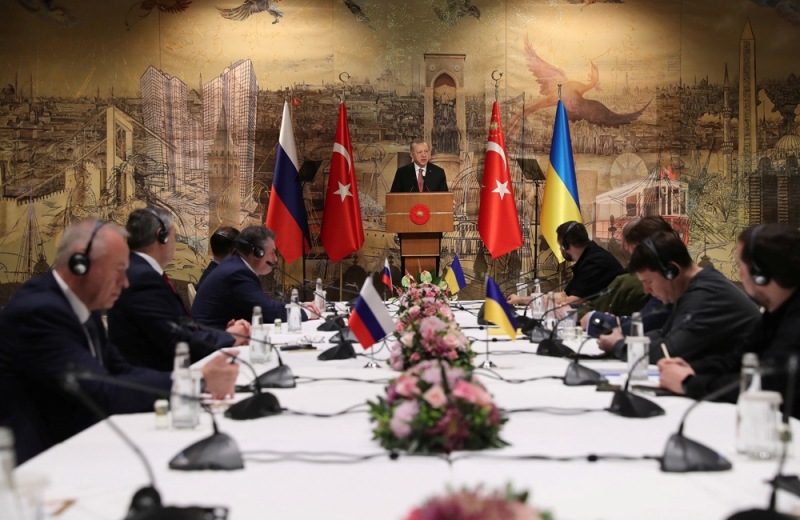 Talks between Russia and Ukraine began at the Dolma Bahce Palace in Istanbul, with Turkish President Recep Tayyip Erdogan welcoming delegations from both countries, saying both sides had "legal" .
Addressing the negotiators before the start of the talks, Erdogan added that it was time for concrete results and called for an immediate ceasefire in Ukraine.
"It is up to both sides to end this tragedy. . Achieving a ceasefire and peace as soon as possible is in everyone's interest. "We believe that we have now entered a period in which concrete results from the talks are needed," Erdogan said.
The Turkish president also said that "the prolongation of the conflict is not in anyone's interest", while ten million civilians have been forced to flee their homes in Ukraine.
"The negotiation process, which is being conducted under "The orders of your leaders have raised hopes for peace." "Everyone is waiting for good news from you," he concluded.
" or if informed by officials.
Mikhail Pontoliak, an adviser to Ukrainian President Volodymyr Zelensky, wrote on Twitter that the delegations were discussing "the basic terms of the negotiation process. The delegations are working in parallel on the whole range of points of friction. "
The Ukrainian embassy in Ankara announced that talks have begun between the heads of the two delegations and will be followed by discussions between all delegations The Russian oligarch Roman Abramovich is also present at the talks, according to photos published from the meeting in Dolma Bahce.
These negotiations between Russia and Ukraine & # 8212; the first to be conducted live for more than fifteen days & # 8211; It is expected to be difficult and there are not many expectations that they will bring results.
On March 10, the first meeting between the Foreign Ministers of Russia and Ukraine after the start of the war took place in Antalya.