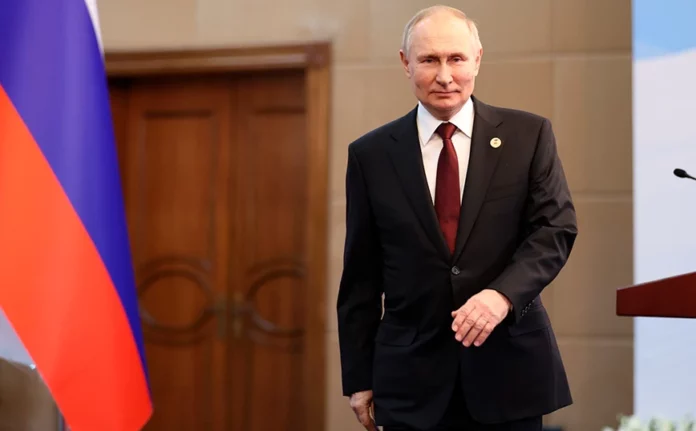 "We expect a new record crop this year"
Russian President Vladimir Putin said Moscow would replace Ukrainian grain with African countries, after the Kremlin's decision a week ago to end the crucial Black Sea Initiative and as the Russia-Africa summit approaches, starting Thursday.
"Our country is able to replace Ukrainian grain, both on a commercial basis and for free, as we expect another record harvest this year," Mr. Putin said in an article in African media also posted on the Kremlin's website, under the title "Russia and Africa: Joining efforts for peace, progress and a prosperous future."
"Despite all sanctions, Russia
strong>will continue its active efforts to guarantee the distribution of grain, food products, fertilizers and other goods in Africa (…) the network of Russian ambassadors and [Russian] trade missions in Africa will expand," added Mr. Putin, who is expected to open the Russia-Africa summit in St. Petersburg on Thursday.
The grain agreement, which was signed in July 202 2 in Istanbul and renewed twice, allowed Ukraine's food exports to resume despite the war, but Russia let it expire last Monday.
In one year, almost 33 million tonnes of grain, mainly corn and wheat, were exported from Ukraine, which helped stabilize food prices globally and averted the risk of shortages.
Refusing to extend it, Moscow argued that Kiev was making insufficient deliveries to poor countries and also that the West was blocking its own exports. agricultural and fertilizer lawsuits.
Last Tuesday the African Union expressed its "regret" over Russia's decision to end the deal.
"I appeal to the parties to resolve the problems to allow the continued safe passage of grain and fertilizers from Ukraine and Russia to the areas that need them, especially Africa," African Union Commission chairman Moussa Faki Maamat said via Twitter.
On Friday, Moscow said it understood the "concerns" of African countries, promising to continue delivering goods to countries in need.
In 2022, Russia exported 11.5 million tons of grain to Africa and in the first half of this year nearly 10 tons, the Athens-Macedonian News Agency reports.
Last week, the Kremlin said it would consider ships bound for Ukrainian ports in the Black Sea potential military targets. Moreover, in recent days it seems to be systematically targeting port infrastructures, especially in the Odesa region.
source: newsbeast.gr