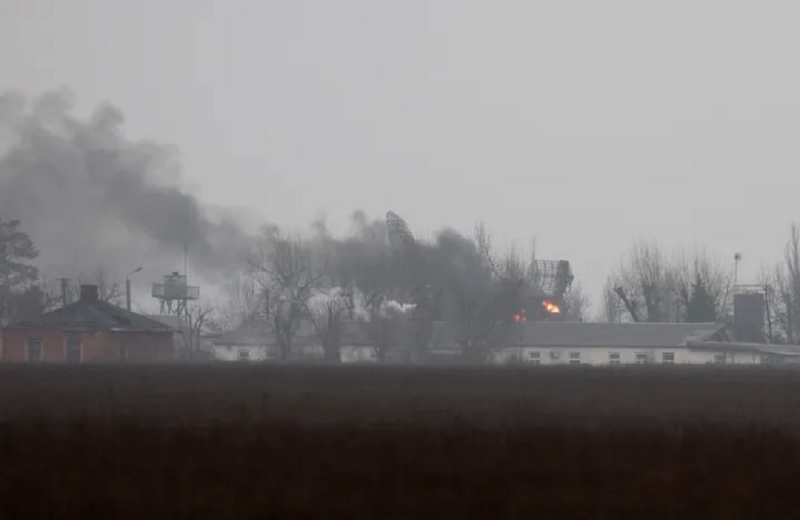 Russian forces have entered the province of Kiev, as confirmed by the Ukrainian authorities.
The Russian attack is proving to be complete and rapid, while a little earlier it became known that Russian forces have occupied and Airport near the Ukrainian capital.
Correspondents broadcast a series of explosions in Kiev, while Russian forces appear to have taken control of Antonio International Airport in Gostomel.
This is a facility about a quarter of a mile from the Ukrainian capital.
In the video below we see an air strike on Gostomel by Russian helicopters.
Gostomel is a city in the Ukrainian Oblast of Kiev in the northwestern suburbs of the capital Kiev. Its population is about 18,000 citizens.
Aerial attack in Gostomel, Ukraine, as Russia tries to capture an airport near Kyiv. pic.twitter.com/KYgWpVC0F1

— Alex Salvi (@alexsalvinews) February 24, 2022
Explosion at a Ukrainian rocket weapons depot in the town of Kalinovka, Vinnytsia Oblast, Ukraine.
5Etfw
Russian helicopters attack Gostomel airport.
#Ukraine: Russian helicopters assaulting the Gostomel Airport in Kyiv under fire from what appears to be Ukrainian MANPADS.

(via @KyleJGlen) pic.twitter.com/V01T5S2sEz

— POPULAR FRONT (@PopularFront_) February 24, 2022
VIDEO: Russian helicopters attack airport in Hostomel near Ukraine's capital Kyiv pic.twitter.com/3Dll1zbo1T

— The Spectator Index (@spectatorindex) February 24, 2022