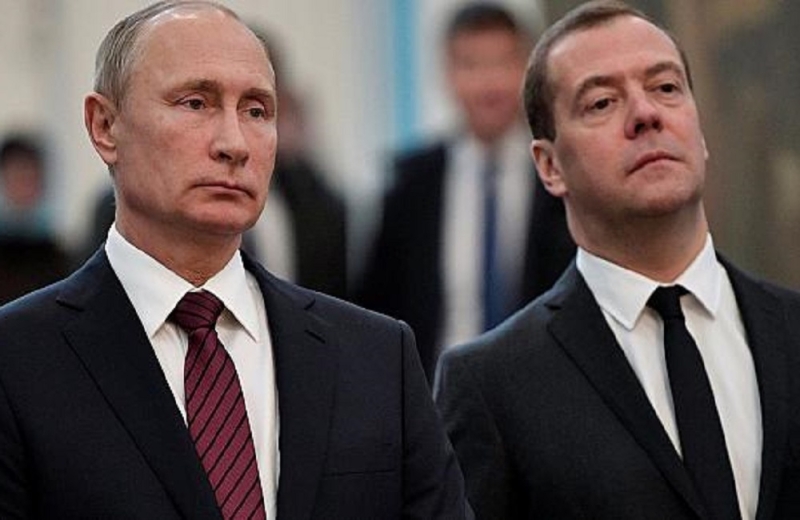 A delusion of hatred and insults was carried out by the once moderate former President of Russia, Dmitry Medvedev, who now holds the position of Deputy Chairman of the Security Council of Russia.
At the same time, the leader of the country, Vladimir Putin, is launching threats left and right, who, from time to time, does not hesitate to imply that he will press the button to sow nuclear disaster.
Medvedev posted a telegram to the Telegram channel on Tuesday morning, which left those who remembered him dumbfounded when he held top Russian positions, using extremist rhetoric and talking about the Russian invasion of Ukraine, through which he expressed his hatred. for the "bastards" and "bastards" who want Russia "dead"!
"I am often asked why my posts on the Telegram are so harsh. I answer, because I hate them. They are sexless and old-fashioned. They want our death, and that of Russia. "As long as I live I will do everything to make them disappear," said the 56-year-old former leader, without specifying what the purpose of his statements was.
Medvedev may not have made it clear who he was referring to, but most likely, according to the Kommersant newspaper, he expressed negative attitudes towards the leaderships of Ukraine, the European Union and the United States.
For example, on May 30. wrote that in the event of a missile strike in Russian cities, Russia could strike back at "criminal decision-making centers", some of which are not even "in Kyiv".
Medvedev has almost 359 thousand followers . Within half an hour, his Telegram post was read by 388,000 people and began to spread rapidly.
He served as President from 2008 to 2012 and Prime Minister from 2012 to 2020. In January 2020, he unexpectedly relinquished his post to incumbent Prime Minister Mikhail Misustin and took over as Deputy Chairman of the powerful Russian Security Council. was created especially for him, as before he took over, there was no such office in that Council.
"They gave him the position of a jester, without responsibilities, and allowed him to write for the Telegram," commented journalist Dmitry Kolezev.
. "The truth is that for a long time now, no one has asked Medvedev anything about him," Russian opposition politician Ilya Yasin wrote on his own Telegram channel.
Medvedev was once considered a moderate, but since the start of the Russian invasion of Ukraine he has emerged as one of the most vocal critics of Western countries that have imposed sanctions on Moscow. Last month, he denounced "crazy" economic sanctions against Russia. Vladimir Putin, who warned the West that his country would hit new targets if the United States began supplying Ukraine with longer-range missiles, had a more serious tone, according to TASS. p>
"If such missiles are given to Kyiv," we will draw the appropriate conclusions and use our weapons (…) to hit targets we have not yet hit, "Putin said in an interview with state television network Rossiya-1. The Russian president did not specify what goals he was referring to, but it will not be the first time he has threatened NATO member countries and supplied weapons to Kyiv.
Exacerbation of the conflict
Ukraine is asking the West to provide it with multi-launcher missile systems, such as the M270 and M142 HIMARS, to strike troops and weapons at Russia's rear. US President Joe Biden has said last week that it decided to offer Ukraine HIMARS, after receiving assurances from Kyiv that it would not use them to hit targets on Russian territory.
Although Russian officials have warned that a US decision to deploy such advanced missile systems in Ukraine would only exacerbate the conflict, Putin said he would not make significant changes on the battlefield.
At the same time, Vladimir Putin is trying to give the impression that Russia's campaign is proceeding as planned.
Russia's anti-aircraft guns have shot down dozens of Ukrainian weapons and "crushed them like nuts," the Russian president said in a brief interview.
Putin, when asked about the weapons supplied by the United States, said that Russia is easy to deal with and has already destroyed dozens of them. "Our anti-aircraft systems are crushing them like nuts. "Dozens have been destroyed," Putin said.
Although the exact type of weapons is unclear, Russia says it has destroyed both aircraft and missiles used by Ukraine. Lavrov: We have been declared "
The" dance "of threats is often joined by the head of the Russian diplomacy, Sergey Lavrov, addressing primarily to the West and secondarily to Ukraine.
" We did "to avoid a direct confrontation – but now that the challenge has been met, we have, of course, accepted it," he said. "Collectively, the West has declared a total hybrid war. "It's difficult to predict how long it will take, but it is clear that the consequences will be felt by all, without exception," Lavrov said in a statement. West to isolate Russia are doomed to fail while underlining on the importance of Russia's relations with China, India, Algeria and the Gulf countries.