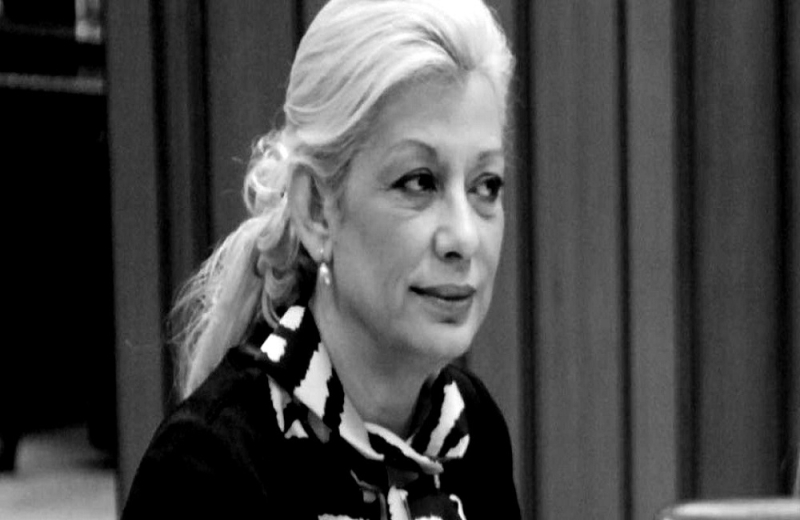 The death of the Minister of Labor, Zeta Aimilianidou, at the age of 67, who had been hospitalized at the Athens Hospital "Hygeia" since May 15, caused pain and grief throughout Cyprus, when she suffered a cerebral artery aneurysm.
Zeta Aimilianidou passed away last night, and with the news of her death, the entire political and business world, known as well as ordinary citizens, rush to express their condolences to her family. .
President Anastasiadis, with a touching message, said goodbye to one of his closest associates.
Είμαι βαθύτατα θλιμμένος. Η απώλεια της αγαπημένης μου Ζέτας με συγκλονίζει. Ειλικρινή συλλυπητήρια στον υιό της Αχιλλέα και στα αδέλφια της Μαίρη και Δώρο. Η Ζέτα θα λείψει από όλους μας. Κυρίως όμως από την πατρίδα μας που χάνει μία έντιμη, ευφυή και αποτελεσματική υπουργό. pic.twitter.com/Nq7yZEfOVi

— Nicos Anastasiades (@AnastasiadesCY) June 6, 2022
Shocking post close associate of the minister, Fanou Kouroufexi
Έφυγε η καλύτερη όλων μας, η δεύτερη μου μάνα.

Το μεγαλύτερο μου σχολείο και πανεπιστήμιο μαζί.

Αυτή που δίδαξε Αρχές πράττοντας και έλεγε ότι το καθήκον είναι ιερό πράμα, όποιο κι αν είναι αυτό για τον καθένα.

Αποτελεσματική, ευφυής, πρωτοπόρα και ευαίσθητη πολύ. Άνθρωπος.

— Phanos Kouroufexis – Φάνος Κουρουφέξης (@fkouroufexis) June 6, 2022
"To the good Lady, thank you for everything", writes the general manager of OEB, Michalis Antoniou.
Στο καλό Αρχόντισσα, σε ευχαριστούμε για όλα … pic.twitter.com/j415IQ2Hoo

— Michalis Antoniou (@OEBdg) June 6, 2022
"Pain and immense sorrow. Our Zeta is gone. Her loss is shocking. We lost a great woman, a great politician, a wonderful man. My sincere condolences to hers ", the post of the Speaker of Parliament, Annita Dimitriou.
https://twitter.com/AnnitaDemetriou/status/1533892385482199042 ? ref_src = twsrc% 5Etfw
Η @OEBcy εκφράζει συγκλονισμό & βαθύτατη θλίψη για το θάνατο της Υπουργού Εργασίας & Κοινωνικών Ασφαλίσεων #ΖέταΑιμιλιανίδου. Με απαράμιλλο επαγγελματισμό και βαθιά ανθρώπινη & κοινωνική ενσυναίσθηση, χάραξε ανεξίτηλα το αποτύπωμα της στην ιστορία της Κύπρου και στις καρδιές μας. pic.twitter.com/XnNPouLWCu

— Ομοσπονδία Εργοδοτών & Βιομηχάνων – OEB (@OEBcy) June 6, 2022
Εκφράζουμε τη βαθύτατη θλίψη μας και τα θερμά μας συλλυπητήρια στην οικογένεια της Ζέτας Αιμιλιανίδου. Ένας άνθρωπος που πάντοτε την χαρακτήριζαν το ήθος, ο επαγγελματισμός και η αξιοπρέπεια. Το κενό που αφήνει, πραγματικά δυσαναπλήρωτο.

— Stratis Matheou (@stratismatheou) June 6, 2022
Τί να πω. I do not know. It is unfair. We spent so much. And in a little while we would calm down. Thank you Zeta. What to say! Not fair! Love u! #RIP
Το @CCCI_Cyprus εκφράζει βαθύτατη θλιψη για τον πρόωρο θάνατο της Υπουργού Εργασίας Ζέτας Αιμιλιανίδου.
Η Ζέτα υπήρξε στενότατη συνεργάτης του ΚΕΒΕ και από κοινού προωθήσαμε πολλές αλλαγές και μεταρρυθμίσεις στα εργασιακά θέσμια της Κύπρου. Θερμά συλληπητήρια στην οικογένεια της. pic.twitter.com/nomSVuOEfl

— Cyprus Chamber of Commerce and Industry (@CCCI_Cyprus) June 6, 2022
I express my deepest sorrow for the loss of Zeta Aimilianidou, a minister, who gave content and substance to her every initiative. The gap of such an intense and bright personality was unfilled. She bravely gave her battles, in the personal and professional arena, always with dignity and courage! Sincere condolences to her family. The news of Zeta's death makes me unimaginably sad! A great and capable minister, a woman you wanted as a friend and she was respected! Sincere condolences!
H είδηση του θανάτου της Ζετα με λυπεί αφάνταστα! Μια σπουδαία ικανότατη υπουργός , μια γυναίκα που την ήθελες για φίλη και ενέπνεε σεβασμό! Ειλικρινή συλλυπητήρια!

— Irene Charalambides (@Xaralambidou) June 6, 2022
Zeta Aimilianidou stood out throughout her natural, technocratic and political life for her ethos, integrity, courage and efficiency. Governance and public administration are poorer as of today & # 8230; Condolences to her family. # Cyprus
Η Ζέτα Αιμιλιανίδου ξεχώριζε σε όλη τη διάρκεια του φυσικού, τεχνοκρατικού και πολιτικού βίου της για το ήθος, την ακεραιότητα, την τόλμη και την αποτελεσματικότητά της. Η διακυβέρνηση και η δημόσια διοίκηση είναι από σήμερα φτωχότερες… Συλλυπητήρια στην οικογένειά της. #Κύπρος pic.twitter.com/a83pD0pm0I

— Χρύσης Παντελίδης (@cpantelides) June 6, 2022
Η Ζέτα υπήρξε υπόδειγμα δημόσιου λειτουργού και πρότυπο πολιτικής συμπεριφοράς και αποτελεσματικότητας. Εργαζόταν εδώ και χρόνια εν γνώση της ότι επιβάρυνε την υγεία της. Είχε όλη τη διάθεση και ικανότητα να βρίσκει λύσεις. Κουράγιο και δύναμη εύχομαι στην οικογένεια της.

— Stavros Malas (@StavrosMalasCY) June 7, 2022
https: //twitter.com/ststefanou/status/1533898108039573504?ref_src=twsrc%5Etfw