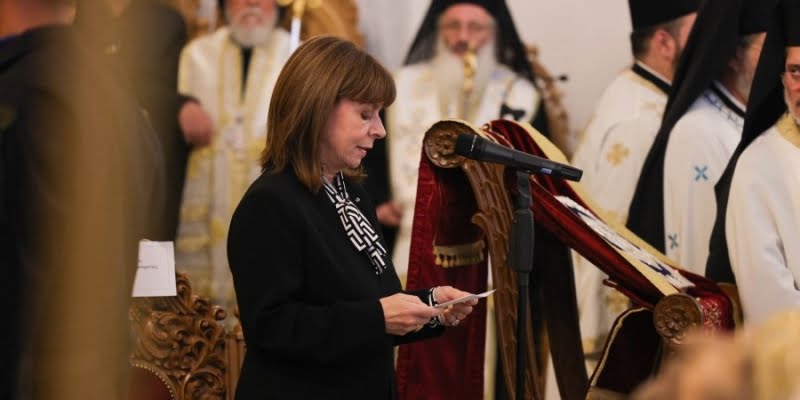 The important historical work of the Aedim Archbishop Chrysostomos, the B' praised the President of the Hellenic Republic Katerina Sakellaropoulou, expressing the certainty that the descendants will follow the "solid legacy of the deceased" and they will stand at the height of this ancient Archbishop's Throne of the great Hellenism.
In her funeral speech at the Cathedral of the Apostle Barnabas, Mr. Sakellaropoulou paid tribute to the deceased, "who left behind a work of historical importance for the Church of Cyprus, the only one that received the autocephaly by decision of the Ecumenical Synod and over the centuries highlighted a sept choirs of Hierarchs, who not only dedicated their lives to the ministry of the nation, but in gloomy and bleak times did not hesitate to sacrifice it.
"This martyrdom of theirs prepared and inspired the struggles of Cypriot Hellenism for freedom and dignity," he said, recalling the verse of the 19th century poet, Vassilis Michaelides, written in the original and Roman topolalia: "The Romiosyni en' a contemporary race of the world/Romiosiny should not be lost, since the world is missing!». Or the words of the blessed Archbishop, "we have deep roots and it is not easy to uproot Hellenism and Orthodoxy from Cyprus".
As he said, Hellenism and Cyprus, after all, are interrelated concepts, based on two indestructible elements over time: religion and language. "Here, on this shining island of the Mediterranean, the ancient philosophical searches for the true and the just met with the teaching of Christianity about the divine Word &ndash? an encounter that created an incomparable spiritual culture with timeless and universal value,' he added.
Mrs. Sakellaropoulou also noted that the Church of Cyprus, apart from its great importance for the survival and development of Cypriot Hellenism, has always been a companion of the mother of all the Orthodox Great Church of Christ, as well as the Patriarchates of Antioch, Jerusalem and Alexandria . He also participated in the biggest ecclesiastical event of the 21st century, the Holy and Great Synod of the Orthodox Church held in Crete, and recognized the autocephaly of the Church of Ukraine.
"This is the tradition, position and apostolic identity of the Church of Cyprus, which the venerable Archbishop of Cyprus, Mr. Chrysostomos B'», said the President of the Hellenic Republic and concluded: «This unique identity is now called upon to serve, feeling the historical burden that they will be called upon to lift, the descendants. I am certain that, following the solid legacy of the deceased, they will stand at the height of this ancient Archbishop's Throne of the great Hellenism.

Read also: LIVE: Hail to Archbishop Chrysostomos II