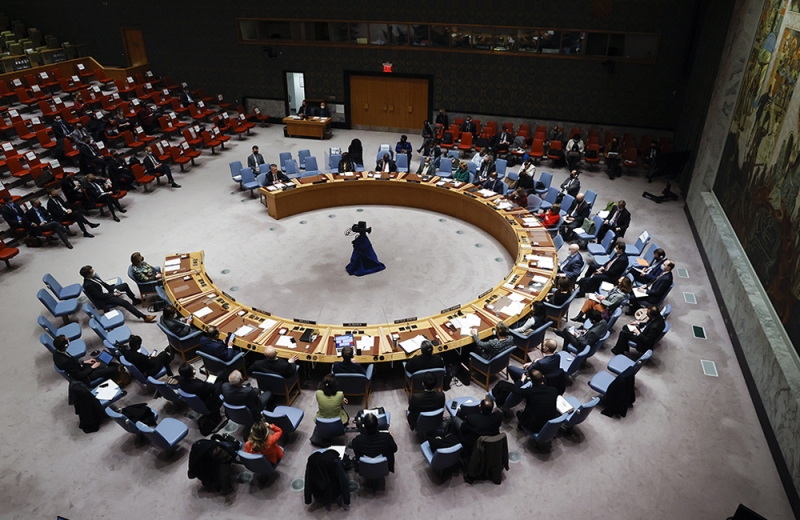 The UN Security Council unanimously adopted a statement late Friday on Ukraine, the first since Russia invaded the country on February 24, expressing & # 8220; its strong support & # 8221; in the efforts of the Secretary General of the Organization and expresses & # 8220; his deep concern for the maintenance of peace and security & # 8221; in the country.
The communication, drafted by Norway and Mexico, does not go so far as to clearly support a mediation effort by Antonio Guterres, as provided for in the first version of the text, which was being negotiated by on Thursday.
However, this announcement is the first expression of Security Council unity since the beginning of the war. In late February, Moscow vetoed another statement calling on Russia to withdraw its troops from Ukraine. his deep concern for the maintenance of peace and security in Ukraine & # 8221 ;, the statement said. The Security Council reiterated that all member states have an obligation under the UN Charter to settle their international disputes peacefully. ">The announcement also notes that the Security Council expresses its strong support for the Secretary-General's efforts to find a peaceful solution & # 8221; In a statement, he called on Guterres to update again & # 8220; in due course & # 8221 ;.
The UN Secretary-General welcomed the support, noting that & # 8221; 8220; I will make every effort to save lives, reduce suffering and find the way to peace & # 8221 ;.
& # 8220; Today, for the first time, the Security Council spoke with one voice in favor of peace in Ukraine & # 8221 ;, Guterres welcomed the announcement. "People must unite to put down their weapons and defend the values ​​of the UN Charter," he said.
UN Secretary-General met last week with Russian President Vladimir Putin in Moscow and his Ukrainian counterpart Volodymyr Zelensky in Kyiv.
These meetings paved the way for the joint operations of the UN and the International Committee of the Red Cross, thanks to which about 500 civilians were evacuated from Mariupol and the Azovstal steel plant in recent days.
>
Also yesterday, the UN announced that Guterres would return to the region on Monday and Tuesday, paying a visit to Moldova, a country that has welcomed half a million Ukrainian refugees.
Since mid-April, the UN has been trying to form a & # 8220; humanitarian contact group & # 8221 ;, which will meet at the same table in Ukraine, Russia and the UN, in vain so far.
& # 8220; We're still looking for ways to bring the warring sides together in a viable and structured format & # 8221; to & # 8220; discuss humanitarian issues & # 8221 ;, UN envoy Stefan Dizaric said yesterday.