Increases in meat and Easter treats
With the aim of better informing consumers, the Consumer Protection Service has completed a survey to collect data regarding the retail price levels of fresh meats, Easter dishes and other products that make up the Easter Table for prices valid on April 11, 2023.
See prices HERE
As regards fresh meats, prices were obtained from 94 points of sale (large and small supermarkets and neighborhood butchers), while for food from 67 points of sale (large and small supermarkets and bakeries). The Observatory covers all provinces. From the data, there is a 25% increase in the price of lamb, around 5% increase in pork and 17% in local beef.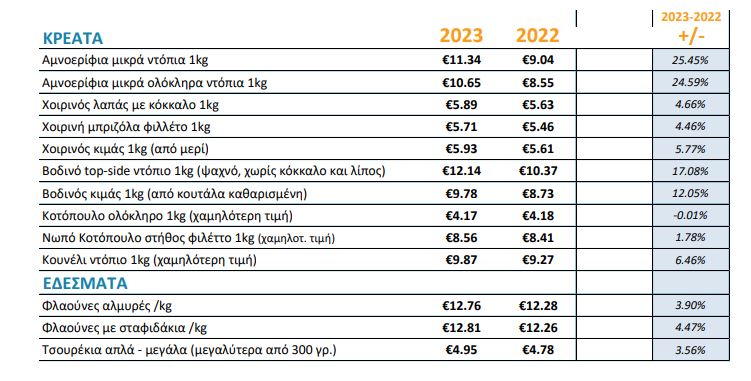 The publication of the Price Observatory is a useful information tool for the consumer, strengthening his ability to conduct market research and make the most advantageous purchases for him. In addition, it adds more transparency to the overall picture of the market and helps promote competition.
The Consumer Protection Service clarifies that Price Observatories are prepared solely for the purpose of assistance/general information to consumers and do not in any way constitute advice. The Price Observatories are not intended and cannot replace the market research that each consumer must do based on their own preferences, data and needs, nor are they intended to indicate to consumers which points of sale they will choose.
Especially for the products included in this Observatory, it is emphasized that there are qualitative differences which cannot be taken into account in the results of a Price Observatory. For this purpose, the Consumer Protection Service urges consumers to do substantial market research before proceeding with purchases, in order to find the products and prices that meet their requirements.
Finally, it is emphasized that the prices presented in every publication of the Price Observatory, concerns the prices on the specific date on which prices have been collected, i.e. April 11, 2023 for this particular case.