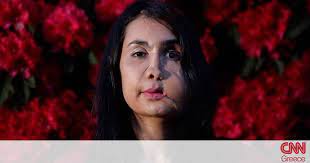 "My past was so painful that it made me come back with more strength. "I always said I was invincible, I say 'no' to violence," said 25-year-old Shakila Zareen from Afghanistan, who has been shot in the face by her husband.
The young girl was forced to marry a much older man when she was still 17 years old. "I do not remember if I ever smiled as a child. I remember being beaten by my brothers, my husband and my son-in-law. "I do not even know how I grew up," she told the BBC about her difficult childhood in Bangladesh, northern Afghanistan.
Her description is shocking. "When I got married, they showed me a makeshift whip and said, 'You're a woman, you deserve it.' I kept asking, "What is our sin? Why are you hitting us? " "They felt offended: how dare a woman react and speak?"
"Later, they learned that I had gone to the police station. My husband shot me with a gun. I did not know if it was day or night. I remember thinking I was living a nightmare, hoping this horrible dream would end. When I woke up in the hospital, I wanted to talk but I could not. Then I saw my mother crying and realized that it was not a nightmare. It was really part of my life. "
Today, its city is on the front lines, as it is a battleground between the Taliban and Afghan forces. She has moved to Canada and despite what she has been through, she says she is lucky and uses her voice and face to help the women of her country.
"Women in Afghanistan are living a very hard life and I see no future for them. If I had not spoken to defend myself I would have died of pain and torture. My message is that Afghan women will never succumb to violence. "We will continue to fight for our rights," said Shakila, who has undergone 22 surgeries to date.
Afghanistan remains one of the worst places for women. Last year, official figures confirmed 3,500 cases of violence against women and there are fears that the numbers will rise as the security situation in the country deteriorates.
View this post on Instagram
source: iefimerida