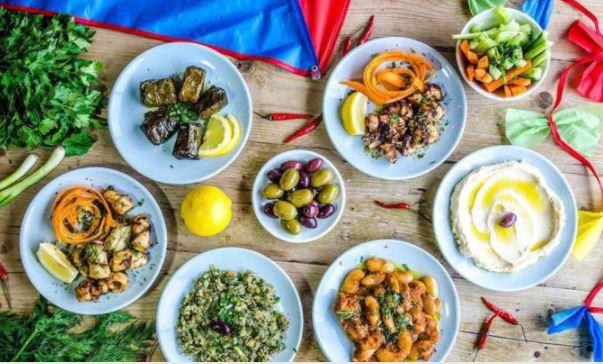 & nbsp & nbspAngelos Nikolaou & nbsp; & nbsp;
Much more expensive this year than last year will be the Clean Monday table and weather permitting will allow citizens to escape the countryside. & nbsp;
The prices of vegetables are much higher compared to last year, as are the rest of Lent delicacies, halva, seafood, salads and baked goods. Even the prices of coals are increased by more than 20% compared to last year. It's essentially a table with fewer restrictions on measures to tackle the coronavirus pandemic, but external factors have led to huge increases. & Nbsp;
According to the Price Observatory of the Consumer Protection Service regarding the levels of retail prices of consumer products for the day of Net Monday, the price of the potato is increased by 38% compared to last year and is available at € 0.72 per kilo compared to € 0.52 last year. The tomato jumped from € 1.71 to € 2.41, with a percentage change of 40%. Greenhouse cucumbers are sold at € 3.31 from € 1.71 last year, an increase of 92%! 46% more expensive and field cucumbers sold at an average price of € 4.06 compared to € 2.77 on Net Monday of 2021. Celery roots increased by 41%, and sold at € 1.95 compared to € 1.38 per kilo. Each artichoke is 70% more expensive with an average price of € 1.67 compared to € 0.98. & Nbsp;
As far as halvas are concerned, a specific package of Cypriot traditional halva with peanuts 400 gr. sold at € 1.95 compared to € 1.64 last year, showing an increase during the year by 18%, while 10% more expensive is the package of 400 gr. halva with cocoa sold at € 3.57 per kilo compared to € 3.23 last year. & nbsp;
Ready-made salads vary depending on the brand and quality. For example, there are specific packages of 250 gr. taramosalata, tachinosalad and hummus sold 11% -13% more expensive and the same products under another brand are available with increases of 4% -6%.
8% respectively. & Nbsp;
How much do seafood cost
The octopus is sold from € 4.49 to € 6.40 per 800 gr. with an average price of & nbsp; € 5.50 and more expensive compared to last year by 9% where it was available at € 6.08 per 800 gr. Also, fresh octopus per kilo is sold at an average price of € 20.52 compared to € 15.21 or an increase of 34%. Fresh squid is sold 4% more expensive with an average price of € 17.05 this year and € 16.40 last year. Fresh cuttlefish are 15% more expensive than last year and sell for € 12.39 compared to € 10.71 per kilo. Refined cuttlefish of a specific brand are sold from € 6.45 to € 10.48 per 720 gr. with an average price of € 8.64 compared to € 6.76 last year. & nbsp;
Lagana shows a 5% increase & nbsp;
Bakery items have appreciated significantly as a result of the increase in raw materials in flour, and the increases in energy. The increases can also be seen in the survey of the Ministry of Commerce conducted at 77 points of sale (large and small supermarkets and fruit shops) in view of Net Monday.
The average price of lagana is increased by 5% and sells at € 1.14 compared to € 1.09 on Net Monday last year. The long bun with yeast or yeast, the well-known ring, is sold 12% and 20% more expensive respectively. The Net Monday Price Observatory also includes two types of red dry wine from the 75 cl bottle where they are sold more expensively within a year from 5% to 8%. The price of coals also varies greatly, where the 5 kg package increased by 22% in one year with the average price being 5.50 compared to € 4.50 last year. & Nbsp;
According to the Ministry of Commerce, the publication of the Net Monday Price Observatory is a useful information tool for the consumer, strengthening his ability to conduct market research and make the most profitable markets for him. In addition, it adds more transparency to the overall market picture and helps to promote competition.
Price comparison 2022 | 2021 & nbsp; & nbsp; & nbsp; €/kg & nbsp; & nbsp; & nbsp; Difference
Celery roots & nbsp; & nbsp; & nbsp; 1.95 & nbsp; & nbsp; & nbsp; 1.38 & nbsp; & nbsp; & nbsp; ► & nbsp; & nbsp; & nbsp; 41.35%
Beetroot & nbsp; & nbsp; & nbsp; 1.86 & nbsp; & nbsp; & nbsp; 1.45 & nbsp; & nbsp; & nbsp; ► & nbsp; & nbsp; & nbsp; 28.34%
Potatoes & nbsp; & nbsp; & nbsp; 0.72 & nbsp; & nbsp; & nbsp; 0.52 & nbsp; & nbsp; & nbsp; ► & nbsp; & nbsp; & nbsp; 28.34%
Tomatoes & nbsp; & nbsp; & nbsp; 2.41 & nbsp; & nbsp; & nbsp; 1.71 & nbsp; & nbsp; & nbsp; ► & nbsp; & nbsp; & nbsp; 40.72%
Greenhouse cucumbers & nbsp; & nbsp; & nbsp; 3.31 & nbsp; & nbsp; & nbsp; 1.72 & nbsp; & nbsp; & nbsp; ► & nbsp; & nbsp; & nbsp; 92.22%
Field cucumbers & nbsp; & nbsp; & nbsp; 4.06 & nbsp; & nbsp; & nbsp; 2.77 & nbsp; & nbsp; & nbsp; ► & nbsp; & nbsp; & nbsp; 46.57%
Cypriot halva with pistachio 400 gr. & Nbsp; & nbsp; & nbsp; 1.95 & nbsp; & nbsp; & nbsp; 1.64 & nbsp; & nbsp; & nbsp; ► & nbsp; & nbsp; & nbsp; 18.54%
Halva with cocoa 400 gr. & nbsp; & nbsp; & nbsp; 3.57 & nbsp; & nbsp; & nbsp; 3,23 & nbsp; & nbsp; & nbsp; ► & nbsp; & nbsp; & nbsp; 10.69%
Taramosalata 250 gr. & nbsp; & nbsp; & nbsp; 1.21 & nbsp; & nbsp; & nbsp; 1.07 & nbsp; & nbsp; & nbsp; ► & nbsp; & nbsp; & nbsp; 13.36%
Tachino salad 250 gr. & nbsp; & nbsp; & nbsp; 1.19 & nbsp; & nbsp; & nbsp; 1.07 & nbsp; & nbsp; & nbsp; ► & nbsp; & nbsp; & nbsp; 11.33%
Hummus 250 gr. & nbsp; & nbsp; & nbsp; 1.19 & nbsp; & nbsp; & nbsp; 1.07 & nbsp; & nbsp; & nbsp; ► & nbsp; & nbsp; & nbsp; 11.33%
Black olives & nbsp; & nbsp; & nbsp; 4.76 & nbsp; & nbsp; & nbsp; 4.47 & nbsp; & nbsp; & nbsp; ► & nbsp; & nbsp; & nbsp; 6.45%
Crushed olives & nbsp; & nbsp; & nbsp; 3.63 & nbsp; & nbsp; & nbsp; 3.36 & nbsp; & nbsp; & nbsp; ► & nbsp; & nbsp; & nbsp; 8.75%
Squid & nbsp; & nbsp; & nbsp; 17.05 & nbsp; & nbsp; & nbsp; 16.40 & nbsp; & nbsp; & nbsp; ► & nbsp; & nbsp; & nbsp; 3.93%
Cuttlefish & nbsp; & nbsp; & nbsp; 12.39 & nbsp; & nbsp; & nbsp; 10.71 & nbsp; & nbsp; & nbsp; ► & nbsp; & nbsp; & nbsp; 15.64%
Octopus & nbsp; & nbsp; & nbsp; 20.52 & nbsp; & nbsp; & nbsp; 15.21 & nbsp; & nbsp; & nbsp; ► & nbsp; & nbsp; & nbsp; 34.85%
Lagana & nbsp; & nbsp; & nbsp; 1.14 & nbsp; & nbsp; & nbsp; 1.09 & nbsp; & nbsp; & nbsp; ► & nbsp; & nbsp; & nbsp; 4.74%
Bun (rings) & nbsp; & nbsp; & nbsp; 1.84 & nbsp; & nbsp; & nbsp; 1.58 & nbsp; & nbsp; & nbsp; ► & nbsp; & nbsp; & nbsp; 19.87%
Red wine dry 75 cl & nbsp; & nbsp; & nbsp; 4.00 & nbsp; & nbsp; & nbsp; 3.68 & nbsp; & nbsp; & nbsp; ► & nbsp; & nbsp; & nbsp; 8.50%
Charcoal 5 Kg & nbsp; & nbsp; & nbsp; 5.41 & nbsp; & nbsp; & nbsp; 4.41 & nbsp; & nbsp; & nbsp; ► & nbsp; & nbsp; & nbsp; 22.80%