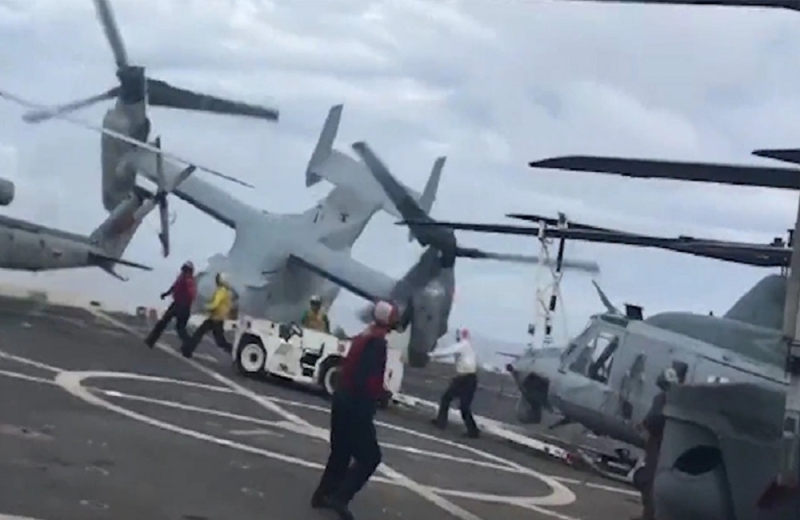 A shocking video first published online a few days ago captures the moment a US military aircraft crashed into a US Navy ship, a tragic event that led to the deaths of three young marines in 2017.
< p>According to the Daily Mail, the controversial footage published online on Saturday shows the MV-22 Osprey aircraft attempting to land on the landing ship USS Green Bay and eventually crashing due to technical problems.
The accident – one of many that have marked the history of the sophisticated helicopter since its first flight in 1989 – it happened on August 5, 2017, when the USS Green Bay was off the coast of Queensland, Australia.
CONTENT WARNING: Harrowing never-before-seen footage has emerged from the fatal crash of a US Marine Corps MV-22 Osprey at USS Green Bay, Rockhampton in 2017.

The American military aircraft had been attempting to land on the crowded deck of an amphibious transport dock. #9News pic.twitter.com/CfeTDDlzhi

— 9News Queensland (@9NewsQueensland) July 4, 2022
The video shows the moment the plane's left engine section hits the deck, and terrified sailors run away to escape.
Moments later, according to the British newspaper, the Bell-Boeing aircraft – which carried 25 Marines of the 265th Marine Medium Tiltrotor Squadron – he dived 10 meters and fell into the sea. The hole in the cockpit caused by the impact caused the aircraft to quickly flood with water and sink.
The fact that the rescue operation began immediately resulted in the survival of 22 of the Marines on board. on the MV-22 Osprey. The bodies of the three other marines were recovered after a search that lasted about 12 hours.
p>Lieutenant Cross was one of the pilots of the aircraft at the time of the crash. In the investigation that followed, it was proven that neither he nor his co-pilot bore the slightest responsibility for the tragic accident, which was caused by a technical problem of the aircraft.