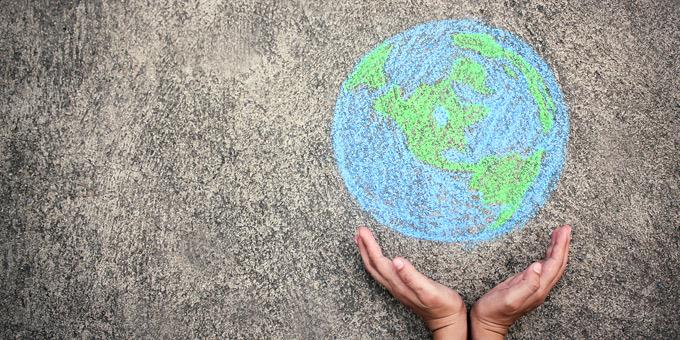 You do not need to change your life to have a clear conscience. Some daily habits are so small, you will not even understand them.
We know, you get bored of making compost, and you still don't feel ready to take the plastic out of your life completely. Until you find the courage and the mood for bigger changes, start with these small and everyday things that – even if you do not believe it – can make a big difference.
Take a second bin , for plastic-paper-aluminum-glass, and just throw whatever packaging you empty there (and then in the blue recycling bins) and all your other rubbish in the regular bin you used until now.
Turn off the tap while brushing your teeth . So small, so self-evident, you will be so surprised if you discover how many people do not.
Buy a thermos and take it with you so you do not buy plastic water bottles every time you are thirsty outside.
Rinse the plastic coffee straw you made at home in the morning and use it a second time. Do not be fooled, many things that are supposed to be "disposable" you use about ten times before you decide to throw them away. Your razors, let's say.
Turn off the lights . They consume energy, emit heat that you do not need in summer, remove from the romance of your space. We do not say to make the mole in the dark, we say that – especially in summer – you definitely need less light than you use.
Do not wrap sandwiches and fruit in plastic jellies . The small tapers protect them better and do not burden the planet with extra garbage. If you get bored of washing them, they fit nicely in the dishwasher.
Speaking of a dishwasher, did you know that one wash spoils about a tenth of the water you would use to wash the same dishes-glasses-tapers by hand? If you are one of those who turn on the water heater because "hot water removes fat better", we can talk about lower energy consumption.
Fabric bags. You can find them everywhere, they are a hundred times more beautiful than the plastic ones, they are washed and reused for years and years, even those cents in the supermarket save you.
Walk more. Put, say, the informal rule that for distances of 20 minutes or less, you will not get a car. And you will unwind and save fuel, and help the planet breathe a little.
Do not wash clothes that you have worn once and do not have stains . With the exception of that sweatshirt that got soaked in sweat when you exercised, everything else is comfortable to wear a second – let alone a third – time if you just spread it out a little to ventilate. Frequent washing, on the one hand, burdens the aquifer with chemicals, on the other hand, reduces the life of the clothes and forces you to buy new ones, which in turn burden the environment even more.
source: In2life