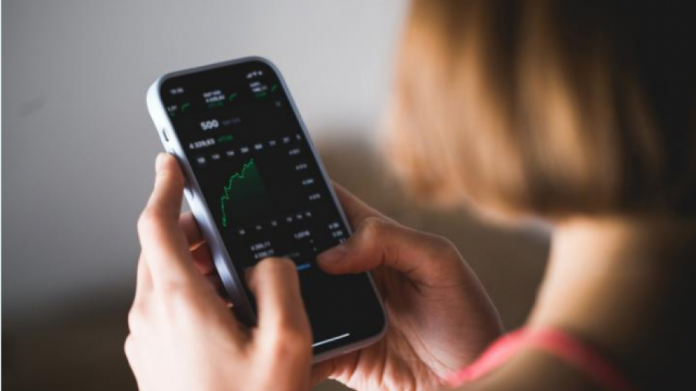 Who buys cryptocurrencies and why
The new generation of investors in the US is bringing significant changes to the market, as it replaces stockbrokers with applications and turns to social media for investment research, preferring digital currencies, according to a poll conducted for CNBC.
The fact that new investors are excited about the market is not surprising, as in the first half of 2021 the S&P 500 strengthened by more than 14%, while cryptocurrencies and meme shares such as GameStop and AMC gained attention.
According to the poll, 73% started investing in 2019 or earlier, while 26% in the last 18 months. Of these, 60% are 18-34 years old, 21% are 34-64 years old and 4% are over 65 years old.
As Tyler Huck, financial adviser at oXYGen Financial in Atlanta, aptly points out, in fact, since most people started investing after the stock market crash in March 2020, all they have seen is the market going up. . "It's fun to do it when you make money, but I don't think many of these people have seen the other side yet," he said.
American investors hold many types of investments: About one-third (31%) own shares, one-quarter mutual funds (25%), 12% bonds, 11% cryptocurrencies and 10% ETFs.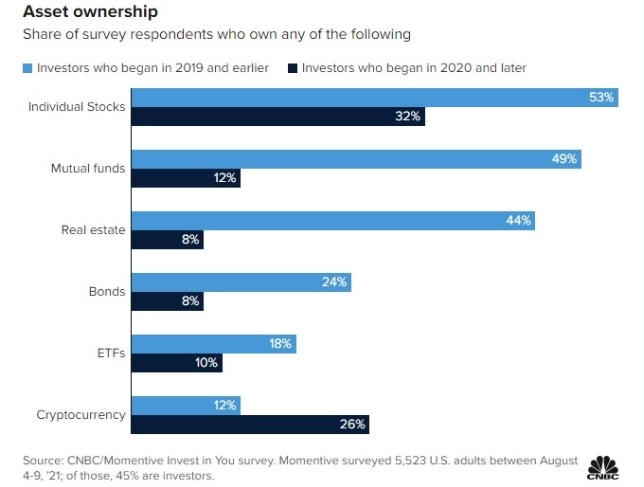 Cryptocurrencies
One in 10 Americans today invest in cryptocurrencies. Most are men, as opposed to women. At the same time, digital currencies are more attractive to young and middle-aged people (15% are aged 18-34, 11% are aged 35-64 and 4% are 65+).
Among the reasons cited are the possibility of long-term growth (60%), the prospect of great growth in a short time (44%), the ease of trading (33%) and the enthusiasm of the investment (26%).
In fact, half of all cryptocurrency investors started in the last year and most of them do it through an application (65%) or a website (23%).
Social media
After all, social media plays a big role and is the most popular way of research. More than a third of new investors (who have started investing in the last 18 months) said they used social media to research investment ideas.
On the other hand, only 9% researched investment ideas through discussions with a financial advisor, compared to 29% of more experienced investors.
Also, about 1 in 10 (12%), aged 18-34, learned how to invest on social media, compared to just 3% at 35-64 and 1% at 65 and over.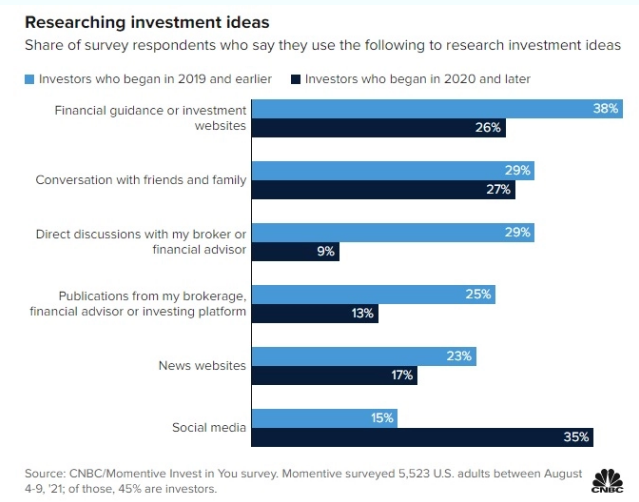 African-Americans and Hispanics are still lagging behind in numbers
Half of African-American adults and 49% of Hispanics do not own any investments (stocks, mutual funds, bonds, cryptocurrencies, or real estate). By gender, 59% of African American women invest in nothing, compared with 48% of Hispanic women, 34% of white women, and 23% of white men.
However, while the racial investment gap is far from closing, more African-Americans and Hispanics have entered the new wave of investment in the last 18 months. In particular, almost half (47%) of African Americans and 45% of Hispanic investors have started investing in the last 18 months.
source: BRIEF
RUN and POWER Group: Enhanced Living Experience.