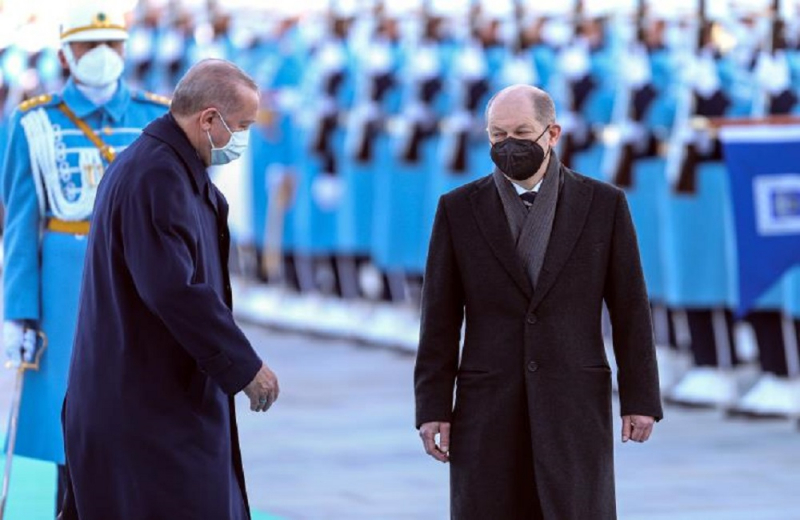 & # 8220; We welcome the readiness of our Turkish allies to contribute to the diplomatic solution in Ukraine & # 8221 ;, German Chancellor Olaf Solz said in a joint press conference with Turkish President Tayyip Erdogan. On energy, he said, Turkey's co-operation with both Germany and the EU is important, adding that energy must be supplied from different countries and freed from Russia's dependence.
For his part, the Turkish President said that Turkey did what NATO member states did not do and supported Ukraine by sending 50 trucks. Tayyip Erdogan said Turkey has a key position in the energy sector as well as in other areas.
Speaking at a joint news conference, the Turkish president said they had agreed to make diplomatic efforts for a solution in Ukraine. "We will continue our efforts without hesitation to establish a permanent ceasefire," he said.
The Turkish President said that they confirmed that Turkey and Germany, as two NATO allies, have common views and concerns. "We agreed on security on the one hand and on accelerating diplomatic efforts for a solution on the other," he said.
Asked by a German journalist if Turkey would participate in the sanctions imposed on Russia, Tayyip Erdogan said "we did what was necessary inside the UN. We did what NATO member states did not do, we continued our support in Ukraine despite Russia. "We have now sent 50 trucks to Ukraine and we continue to do so." will show the future under the current circumstances. It's essential to see what the new conditions bring & # 8221 ;.
Tayyip Erdogan said that "recent developments have shown that Turkey holds a key position in many areas, especially in security and energy." "It is indisputable that Germany is one of the leading countries in the EU. I believe that the constructive attitude of our German friends in Turkey-EU relations will continue," he said.
Tayyip Erdogan expressed the view that the existing high-level consultation mechanisms with Germany should be revived. "Let us hope that we will hold the meeting of the Supreme Strategic Council in Turkey as soon as possible," said the Turkish President.
On economic relations between the two countries, Tayyip Erdogan said that the volume of bilateral trade which was about $ 38 billion in 2020, has exceeded $ 41 billion in 2021. "We are determined to increase this amount to $ 50 billion," he said.
founded a theological school in Germany.
For his part, the German Chancellor said that the activation of the Montreux Treaty and the ban on crossing the Straits was an important step by Turkey. He called on Putin to end the war in Ukraine, saying "there can be only a diplomatic solution." The meeting of the Foreign Ministers of the two countries in Turkey was very useful & # 8221 ;, he said.
The German Chancellor said that he welcomes the meeting of the Turkish President with his Israeli counterpart. "You also met with the Greek Prime Minister Mitsotakis. That's the way we should go, "said Olaf Soltz." p>
"In order not to be dependent on Russia, we must get energy from different sources, and from different countries. "So we have to be able to make our decisions independently," he said