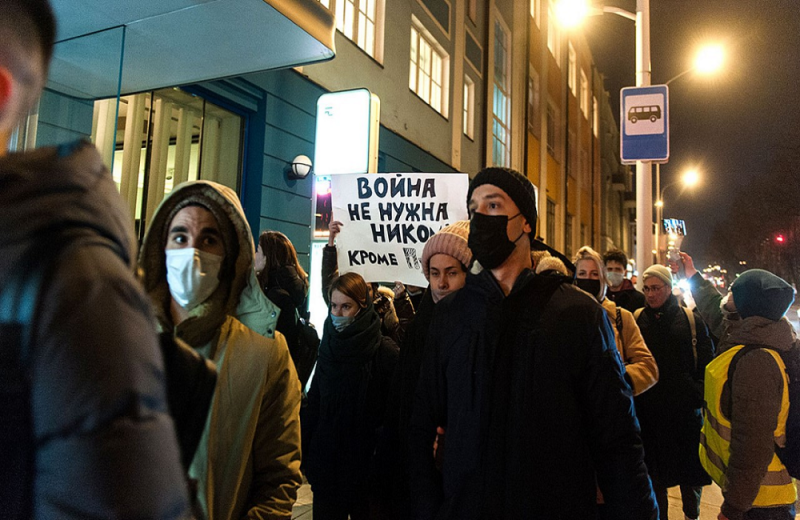 & # 8220; It's a surreal situation. I could not imagine that such a thing would happen. "I thought it was all a bluff," said Michael, a 20-year-old theater worker, one of the pedestrians, according to a report in the English-language Moscow Times, on a walk from Red Square to Novy Arbat shopping street, with the Kremlin bell towers in the background. .
Weeks of intense diplomacy and Western sanctions failed to deter the attack, as Russia rallied 150,000 to 200,000 troops along the Ukrainian border and recognized the breakaway Donetsk and Luhansk Democratic Republics.
In Moscow on Thursday a mass demonstration was held by citizens who disagree with the War and the Police dispersed them with tear gas.

At the same time 170 experts and journalists signed an open appeal to stop the war. More than 150 lawmakers, mostly from Moscow and St. Petersburg, also publicly condemned the war.

More than 60 activists and journalists, according to local media reports, were arrested on Thursday, with pop stars, night TV presenters and directors posting black squares on Instagram and one-person pickets appearing all over the country./p>

& # 8220; We Russians will face the consequences of today for many more years & # 8221 ;, wrote the former presidential candidate Xenia Sobchak.

Although any public outcry has been outlawed since the beginning of the pandemic and the threat of arrest and imprisonment is likely, the dangers for many are simply not worth it. & # 8220; There is no reason for the Russians to go against Putin & # 8221 ;, said a Muscovite from Milan, & # 8220; nothing will change & # 8221 ;.

UCL Professor of Oriental Studies Mark Galeotti in a dramatic article in the Moscow Times today calls on the West to bomb the Kremlin. It's an act we owe to millions of brave Russians who oppose Putin, it's an act owed to Russian history and culture, he said.

< strong> Horror

& # 8220; This is a horrible situation & # 8221 ;, said Pavel, 47, as he walked to work along Arbat Street. & # 8220; This is not normal. We have nothing to separate us & # 8211; one person went crazy and attacked another country. I have no problem with Ukraine, I do not need anything from it & # 8221 ;, he added.

"We do not understand why this is happening. We can not fully support our president's policy because we do not understand his logic and actions & # 8221 ;, said Milana, 16, as she hurried to school with a number of her friends.

And supporters

However, not everyone disagreed with their government. & # 8220; The situation is fine. Ate Russia & # 8221 ;, observed a passer-by when asked about the news of the attack, refusing to stop.

Russian President Vladimir Putin said in a speech Thursday morning that Russia would launch a & # 8220; special military operation & # 8221; aimed at & # 8220; demilitarization and de-Nazification & # 8221; of Ukraine. Russia has become increasingly intolerant of its eastern neighbor since the overthrow of pro-Russian President Viktor Yanukovych in 2014 during the Maidan revolution, as Ukraine has repeatedly stated its ambitions to join NATO.

< p class = "x_MsoNormal">For some Russians, it was these ambitions and the US refusal to crush them that led to the invasion. "This is not a situation between Ukraine and Russia. It's a situation for America & # 8221 ;, said Natalia, 42, who took a cigarette break from work. & # 8220; People in Washington started this by provoking Russia & # 8221 ;, he added.

& # 8220; Russia and the US are both guilty, Ukraine is in the middle & # 8221 ;, said Valeriy, a 59-year-old Muscovite speaking with a sad gentleness.

Foreign currency

As the Russian stock market saw more than half of its value written off in the first hours of trading on Thursday, ordinary Russians rushed to the cash registers to withdraw foreign currencies. When an armored truck stopped outside a branch of the Austro-Russian bank Raiffeisen, 20 people rushed into the building, desperately trying to grab a foreign currency as the ruble fell to record lows against the US dollar and the euro./p>

The Kremlin said on Thursday that it believed the Russians would & # 8220; support & # 8221; Kremlin operations in Moscow, but feelings of anger were rampant in the capital.

& # 8220; Nothing good will come of it. We do not need war, we must be able to reach agreements & # 8221 ;, said computer developer Dmitry, 36.