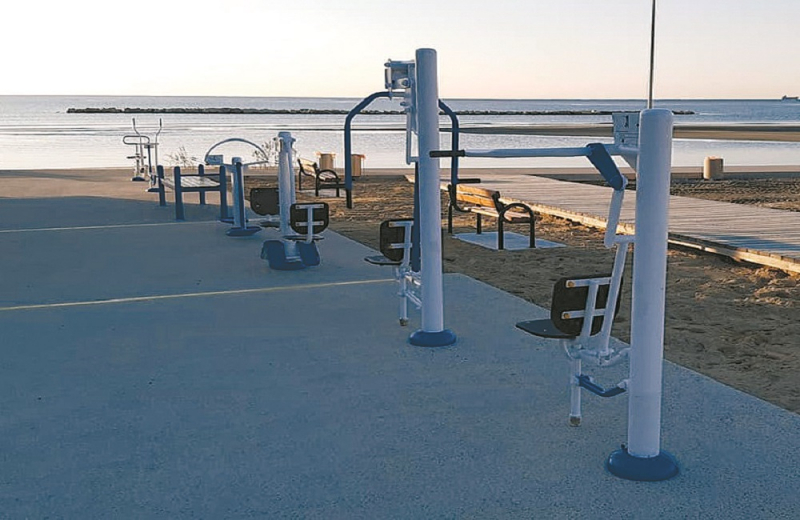 The enrichment of the Oroklini coastline continues in view of the upcoming summer tourist season. As part of the landscaping work, another sports park with fitness equipment, as well as a playground have been created and are already operating on the coastal sidewalk in the area, next to the community council kiosk and the lifeguard tower.
At the same time, new parking spaces were created in the area for 24 vehicles and two spaces for the disabled, new benches and lighting were installed, while sunbeds, umbrellas and a boat-shaped library will soon be installed. The above projects were supported by the Action Plan of the Larnaca Tourism Development and Promotion Company, as these are actions that enrich the tourism product of the wider Larnaca.
The new sports park next to the community council kiosk is being added to a number of other projects that have been done in recent years on the total three and a half kilometer beach of Oroklini, such as the installation of outdoor fitness equipment, the planting of palm trees along the coast, the addition outdoor library in the shape of a boat and the creation of a beach volleyball court. The culmination of the whole effort to enrich the tourist product in the rapidly developing area of ​​Oroklini was the sinking, about two years ago, of the ships "Elpida" and "LEF 1" (in the sea area opposite the Palm Beach Hotel), which are the new Larnaca artificial reef for the purpose of attracting diving tourism.
Another action exclusively of the community council is the installation, at the beginning of this summer season, of uniform beds and umbrellas along the entire length of Oroklini beach, which every year attracts more and more foreign and local bathers.