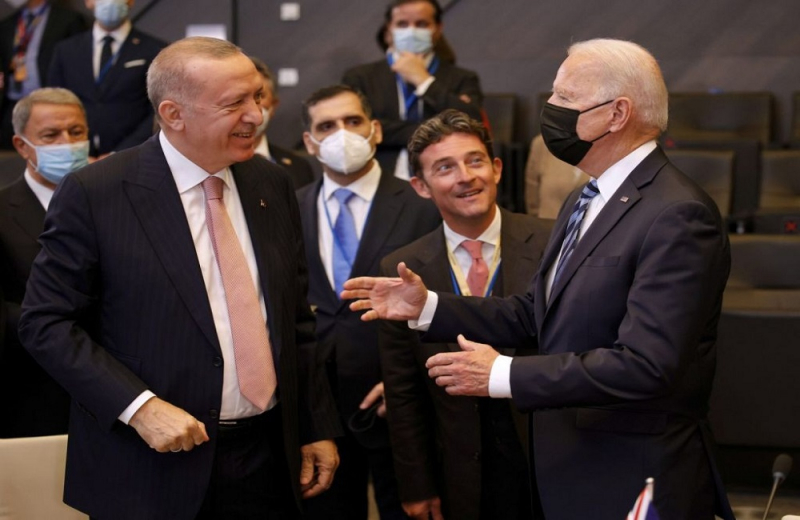 The meeting of the Russian Foreign Minister and Ukraine in Antalya, Turkey, although it did not bring substantial results, is considered a great diplomatic success by Erdogan who had a conversation with Joe Biden on the developments.
The telephone conversation lasted 45 minutes, with Erdogan calling the Lavrov-Kuleba meeting a "diplomatic success" and adding that it was important that his country could and would talk to both Moscow and Kyiv.
< p> What will happen to the embargo
According to reports, the Turkish president asked the US president to lift the embargo on Turkey's defense industry and to speed up the procedures for the purchase of 40 F-16 fighters and the modernization of the rest.
He called him , in short, to lift US sanctions against the Turkish defense industry under the US Counter-Sanctions Act (CAATSA).
The United States, however, continues to They call on Turkey to abandon the Russian S-400 system, a State Department spokesman said after a telephone conversation between Joe Biden and his Turkish counterpart.
What the US answers
Answering a question from the APE on whether the United States could consider lifting sanctions, while the S-400 State Department spokesman notes that Washington continues to urge Ankara to leave the Russian system.
He stressed: "We call on Turkey to abandon the S-400 system. Turkey's acquisition of the S-400s is in direct conflict with the commitments made by all Allies at the 2016 NATO Summit in Warsaw to reduce dependence on Russian equipment.
Its purchase S-400 system from Turkey jeopardizes the security of US military and Allied military technology and personnel, undermining the coherence and interoperability of NATO.
Russia's access to the Turkish Armed Forces and the defense industry. (CAATSA), for the fact that it knowingly made a significant transaction with Rosoboronexport ", noted the representative of the State Department.
In fact, US government sources report that Sooner or later, Turkey will be asked to choose between the US and Russia…