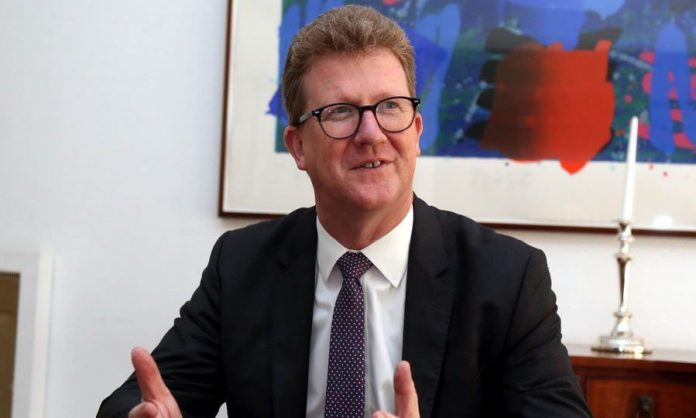 What we are talking about is the decentralized federation, not the confederation or the two states
After a long period of gossip, the British High Commissioner Steven Lilly reveals to "K" what the famous British initiatives are. "We are talking about a largely decentralized federation, which I do not think is controversial, since it is an idea put forward by President Anastasiadis himself," explains Steven Lily. "We are talking about informal ideas, not a solid plan, and this is not what various circles have tried to describe.
These ideas fall entirely within the framework of the UN-agreed framework for a bi-zonal, bi-communal federation with political equality, which is honestly the only viable way out. " DDO term, as a slogan, but focus on the detail of the application. He expressed the view that the attempt to restart from the point where Cran Montana ended was a recipe for long and fruitless discussions.
"I still believe," he noted, "that with energy, creativity, flexibility and political will, a solution to the Cyprus problem is possible. The UK will support any efforts in this direction. " the phrase "two states internally, one externally" is something new to me. We will have on hand one internationally recognized federal state to handle international relations such as diplomacy and defense and some other necessary powers to ensure the integrity and functionality of Cyprus as a sovereign state. On the other hand, we will have two component states to handle most of the issues that affect people's daily lives, such as the health, transportation, etc. sectors. This is the ICC.
As for the phrase "no entity shall be able to dominate the other", what is the alternative? That one community will be able to dominate the other? It was already agreed in the 2014 Joint Declaration that sovereignty comes equally from EC and TC. It does not belong to one community or the other.
source: KAPHIMERINI KYPROU
RUN and POWER Group: Enhanced Living Experience.