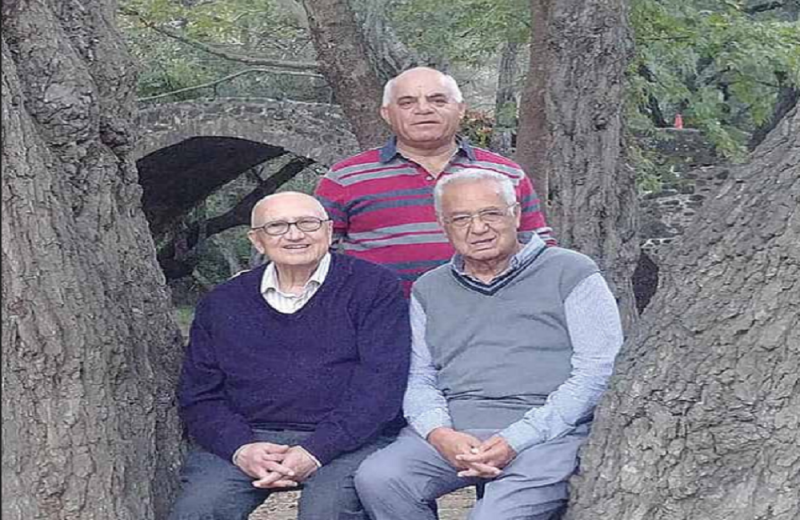 * In the photo Mehmet Birinci and Tekin's father on the right, with a friend in Agios Nikolaos.
Sevgul Uludag
caramel_cy@yahoo.com
Tel: 99 966518
One of our friends, Mehmet Birinci, shared with us his memories from the village of Agios Nikolaos. Mehmet is one of the founders of HAS-DER, which is the Turkish Cypriot folklore association that fought hard for the survival of Cypriot folklore in this land. Today, I want to share here a summary of his memories. Mehmet Birinci says:
My only goal is to witness what we experienced and I do not want my memories to be used by chauvinist forces for outdated fascist propaganda. What we experienced in Cyprus is essentially the cruelty of Anglo-American imperialism and its collaborators in Turkey, Greece and Cyprus and the local fascist groups they used to apply cruelty to each other.
Today I have a happy marriage with a Greek Cypriot named Andri Charalambous. When families of Turkish Cypriots and Greek Cypriots meet, it perfectly reflects what a multicultural island of happiness could be like if the seeds of hostility had not been planted. Maybe my memories are ordinary for those who lived in those years and maybe some people lived much worse moments than me. However, I have a memory which those who survived the killings in Tochni, Zygi, Maratha-Aloa-Santallari, Marie, Assia, Syklipo, Lapithos, Karavas, etc. We were also lined up to be shot, but at the last minute a miracle saved us and we survived the execution.
My village Agios Nikolaos generally had good relations with the surrounding Greek Cypriot villages. Sometimes the men of TMT, and especially its administrator who was the principal of the school in my village, created tension with the Greek Cypriots between 1964-1974, but in general our fellow villagers had very good relations with the Greek Cypriots.
July 1974. I was 16 years old. The years I was a student, I always spent two or three weeks in my village. In the summer of 1974, my twin brother Kufi first went on vacation to my grandmother. One of our classmates, Sami Shefik yerli, had also gone with him as his father had served as a police officer in the village and Sami had known the village ever since. He did not return to Nicosia with my twin brother, but stayed in the village. And on July 12 or 13, I went with my younger brothers, Ertan and Hasan, to spend the holidays there. On the morning of Monday, July 15, we woke up to the news of the coup. We learned that all roads were closed and we could not go anywhere. The streets opened on July 17.
Agios Nikolaos was located at an important point on the Paphos-Troodos road and so the Greek Cypriot National Guard wanted to ensure road safety. They also knew the presence of TMT in the village. There was a danger that the Turkish Cypriots would close the main road. The former commander of the Police of the Republic of Cyprus, Mr. Niyazi, lived in the village. And Andreas Moustakas, one of the commanders of the National Guard and former EOKA, tried to find Mr. Niyazi to tell him that the village had to be surrendered without resistance, but he could not find him.
* Mehmet Birinci dances Cypriot dances in a folklore event
On July 20, 1974, from 16:00 onwards, fighting began in the village between the Turkish Cypriot soldiers and the Greek Cypriot National Guard. The clash lasted 24 hours and on July 21, around 16.00, the Turkish Cypriot soldiers left the village and went from the mountains to the village of Ai Giannis.
Half the village was gathered at my grandfather's house – there were at least 300 villagers inside the house and outside in the yard. When we saw Greek Cypriot soldiers crossing the street, my grandfather shouted at them and said: "Children, you are wearing", and he raised his hands to show them that we did not have weapons.
They ordered us to raise our hands and took all of us prisoners and took us to the yard of the village police station. As Greek Cypriot soldiers entered the village, they had killed Aunt Shemshinur and her blind husband, who were both about 90 years old. They also shot Uncle Osman hiding under the bed. Thus, our village on July 21 lost 3 people.
The Greek Cypriot soldiers of the National Guard gathered all the women, men and children in the yard of the police station. When things calmed down, Moustakas had a meeting with Mr. Niyazi and did not send anyone from our village to the POW camps in Paphos or Limassol. We all stayed home.
Among the soldiers of the National Guard was a Paphite Greek Cypriot from our school, the English School, which was a class older than us. He had allowed us to see his gun when we were in the yard of the police station. He was giving cigarettes to my friend Sami and they were talking, he was more of a friend of Sami than mine. As the days passed quietly in the village, one day we heard on the radio that a second Turkish military operation had begun. Some Greek Cypriot soldiers with a Land Rover covered with green bushes entered our village and approached my grandfather's cafe. My grandfather told me, "Hurry up, go home." I went home and tried to hide under the bed, but I saw that there was a couple hiding there. As I was trying to hide, I was hit in the back with the butt of my gun and I got up. I saw that the one who hit me was the soldier from our school. "Come on," I tried to say, but he would not let me speak. He was not alone. He had his sergeant with him and carried out his orders. He raised his gun to hit me again and I fell down to avoid being hit, and the other soldiers pressed me with their boots on my back and neck and ordered me to put my hands behind my neck.
There were two rows of Greek Cypriot soldiers in our yard and I passed between them and walked towards the center of the village. I saw that some of our fellow villagers were lined up below the cafe, in front of the grocery store. They ordered me to go there and then they brought Sami there as well.
A detachment of soldiers was marking us with their weapons. I counted, and I remember it like today, there were 13 of us. Commander Moustakas was on our left and went up to the village fountain, putting his right foot on the fountain and his left foot on the basin, his right hand in the air! He was going to give the order to shoot! And at that moment, in an incredible synchronization, Mr. Niyazi appeared there. Maybe some women who took their husbands from their homes ran and informed him and asked for help. So he came to the center of the village and saw that we had been lined up to be executed.
And we heard the voice of Niyazi Effendi who said: "Are you not ashamed to find Moustaka and will you kill defenseless villagers? What did they do to you; "My son, if you want to fight, the Turkish army is in Kyrenia, take your soldiers and go there!" Moustakas was ashamed and angry at the same time, but ordered his soldiers to lower their weapons. He ordered his soldiers to arrest all the men of the village. Half an hour later, all the men were in the center of the village. They brought us back to the yard of the police station. And there Moustakas told Mr. Niyazi that he would use the men of the village of Agios Nikolaos as a shield to force the village of Ai Giannis to surrender. Mr Niyazi was opposed to that as well. Moustakas told Mr. Niyazi that he would abandon the idea only if Mr. Niyazi himself went and told them to surrender. Mr. Niyazi accepted to save us and went to Ai Giannis. Of course they refused to surrender, and were reportedly also rude to Mr. Niyazi. That day, Moustakas sent us back to our homes.
Then Moustakas started the attack on Ai Giannis. There was a 12-hour resistance from Ai Giannis. If I am not mistaken, the Greek Cypriot National Guard killed 11 people in Ai Giannis and bulldozed some houses. The Turkish Cypriot soldiers who managed to escape, went to Vretsia. Due to the ceasefire that took effect on 16 August, Bretsia did not surrender. Not even Stavrokonnou. These villages remained as enclaves until the beginning of 1975 and when the population exchange agreement entered into force, they went north with their weapons. And the inhabitants of these villages moved to the north in 1975.
(Continued next Sunday)