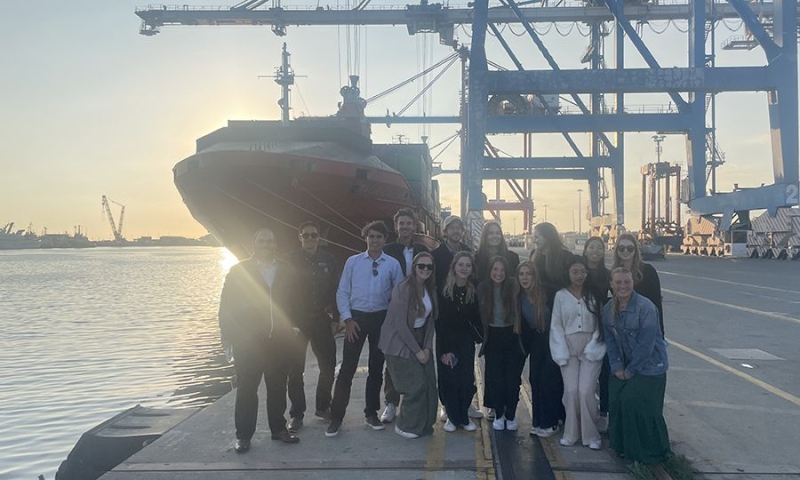 Students from American academic institutions had the opportunity to tour the facilities of Eurogate Container Terminal Limassol Ltd. The students were in Cyprus on February 21-24, 2023, as part of the Semester at Sea program, which is managed by the American Institute of Shipboard Education (ISE). This particular program involves students from various US academic institutions, from different fields of study, who choose to spend the spring semester of their studies, traveling by ship to various parts of the world.
During this period, the students, alongside the courses, stop at various ports around the world, participate in guided tours and attend seminars and presentations from companies and organizations in various fields, depending on their research interests.
Eurogate hosted the students at its premises and presented its project to them at the container terminal in the port of Limassol, with the students having the opportunity to formulate questions within the academic field of "Leading High-Performance Teams", but also to see up close the provision of services and the operation of a modern terminal, through which 90% of the imports and exports of the Republic of Cyprus are handled.
In his statement, the Operations Manager of Eurogate Container Terminal Limassol Ltd, Capt. Giorgos Pouros, highlighted the importance that the company gives to educational programs of hospitality and interaction with students. As he characteristically stated, "the know-how and expertise of the Eurogate staff is always at the disposal of students, researchers and students, as through this fermentation, the academy comes closer to the real labor market and a further boost is given to the shipping sector, the maritime professions and trade".
H EUROGATE Container Terminal Limassol Ltd is the managing company of the container terminal at the port of Limassol. It employs 200 people in Cyprus. With the aim of making a decisive contribution to the development of the Cypriot economy, the company seeks to upgrade the infrastructure and services of the terminal and increase the volume of work in the port. EUROGATE Group is the largest independent operator of container terminals in Europe and handles around 11.7 million containers (TEU) in 9 terminals in Germany, Italy, Morocco, Russia and Cyprus. The Group employs more than eight thousand people.