Barren draw in GSP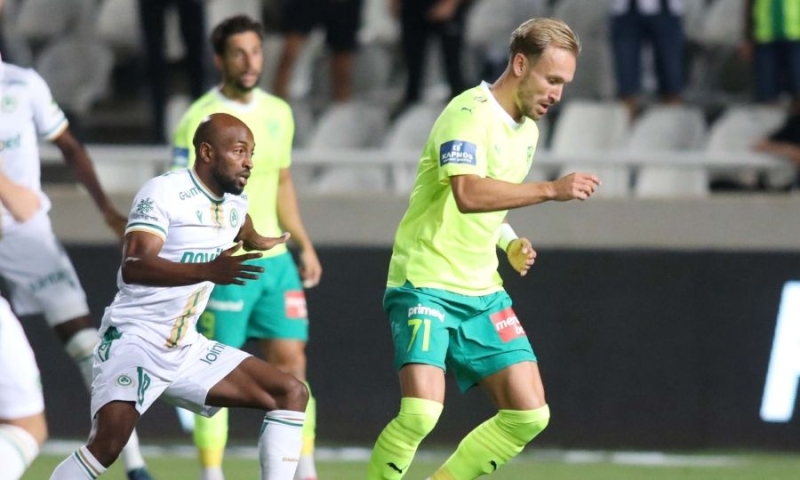 watch video
The derby between Omonia and AEK at GSP ended in a 0-0 draw for the 9th matchday of the championship with both teams taking one point each. In terms of spectacle, the game was quite poor, as we didn't have that many phases, with Augusti and Oltra more focused on not conceding goals. Omonia was the team that had the most classic phases with the crossbar in the 78th minute of Bezos' free kick, but also the huge save by Piric in the 79th minute of Koussoulou's turn. On the other hand, AEK kept more of the ball, but it was meaningless, as it did not manage to create any great opportunity to reach the goal. So both teams got one point each. Omonia rose to 17 points and AEK to 13.
First half
In the first half, although the rhythm of the match was good, we did not have such a good spectacle , as neither Omonia nor AEK created enough phases to threaten the opponent's goal.
AEK started the game better, creating the first phase of the match in the 2nd minute, but Sol's header ended up in the hands of Fabiano.
Then the Oltra team kept the ball and moved around more, but it didn't become particularly threatening.
After 20', Omonoia went up as well, scoring a good chance in 23' with Kakoullis making the shot, but Piric kicked it for a corner. Two minutes later, in the 25th minute, AEK threatened with Tonkia's shot going wide.
Then the pace of the match dropped without us having another big chance, apart from Kakoullis' goal at 45+1', but he was in an offside position. So the first half ended in a 0-0 draw.
Second half
In the second half again the spectacle was not so good, with both teams paying more attention to their notes .
Until 75' we didn't see any meaningful phase in the game, with the pace of the match being down, with AEK keeping possession of the ball more without managing to become dangerous.
In the 78th minute, Omonia missed the biggest chance of the match to score, as Bezus' direct free kick was stopped by Piric's right crossbar, while a minute later, the "clover" threatened again after Koussoulou's turn, but again the AEK goalkeeper said "no", keeping the score to zero.
In the remaining minutes nothing changed in the match and so it remained 0-0 until the end, with both teams taking one point each.
THE IDENTITY OF THE MATCH:
Omonoia: Fabiano, Mathews, Koulibali, Cipriano, Semedo, Kakoullis, Basirou, Simic, Panagiotou, Kousoulos, Bezous.
On the bench: Ouzoho, Kyriakidis, Psaltis, Loizou, Allium, Franson, Ansarifard, Zachariou, Lang, Miletic, Charalambous, Prokopiou.
AEK: Piric, Djuncu, Tomovic, Ledes, Tongia, Sol, Farage, Kaptum, Roberge, Sanchez, Diemers.
On the bench Hererin, Toumbas, Galiolo, Triskovski, Lopes, Milicevic, Gama, Pons, Santos, Gourcho, Mamas.
Scorer: / 
Referee: Fahndrich Lukas Thomas
VAR: Christoforou Marios