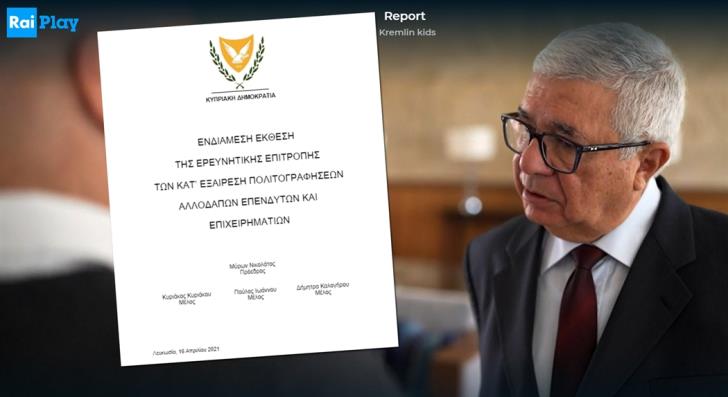 & nbsp & nbspFanis Makridis & nbsp; & nbsp;
In at least 33 separate cases of persons, the investigative committee of exceptional naturalizations under Myron Nikolatos, speaks of possible criminal offenses.
The conclusion of this four-member committee points out that for 14 investors whether false statements and misleading information have been fraudulently submitted in order to obtain a Cypriot passport. In other words, in those cases a criminal offense may have been committed, either by themselves or by the providers.
Among the 14 mentioned above is Pham Nhat Vu from Vietnam, whose file was recently forwarded by the Police to the Legal Service for instructions. The case of the latter returned to the forefront last week on the occasion of a relevant publication of "F".
Another 18 people participated in a group investment program, which concerns projects and companies. These are people who, although they received naturalization with the commitment to buy houses in Cyprus, nevertheless a year later had canceled the purchase documents. Which, according to the findings of the Nikolatos Committee, "may indicate the existence of an intent to deceive".
READ ALSO:
Vietnamese husband and children New radio for the "golden" passports of Cyprus
The remaining case concerns the former Speaker of Parliament Dimitris Syllouris. The latter is mentioned as a possible intervention in two cases of people who were naturalized Cypriots. In fact, it is indicated whether there is a question of abuse of power. & nbsp;
Five Cases
From April last year until today, ie a year ago, the conclusion of the investigative committee was handed over to the Attorney General George Savvidis. So far, following the instructions of the Legal Service, a case has been registered in court, that of the Iranian Mehdi Ebrahimi Eshratabadi, who became Cypriot under the name of Tony Newman. For another four, the TAE Headquarters has completed the investigation and within the last 30 days has forwarded the files to the Legal Service. These four cases to be evaluated by Republican lawyers are related (1) to Al Jazeera's revelations, (2,3) two separate Egyptian cases filed by the same law firm, and (4) the Pham Nhat case Vu from Vietnam. It is estimated that the police investigation will soon be completed for a sixth case involving Sopheap Choeung from Cambodia.
These are the 33 cases
It should be noted that the Nikolatos commission includes 32 of the total of 33 cases, in the category of naturalizations with "false statements and misleading information". Nikolatos's conclusion invokes Article 116 of the Law on the Population Archive, which states: or whoever, through gross negligence, gives any certificate which is false as to its essential element, is guilty of an offense and is subject, in the event of conviction, to imprisonment for a term not exceeding one year or to a fine not exceeding the thousand euros or both sentences together ".
Regarding the 33rd case, as we noted, it concerns Mr. Dimitris Syllouris, and there is talk of investigating whether there is a case of abuse of power.
We present briefly:
► Vadim Shulman (Ukraine): Joined the Ukrainian government's wanted list two weeks after its naturalization was approved. The finding adds: "Or it appears that he failed to state that he was under investigation so it may be a case of deception and/or concealment. This may also be a criminal offense… ».
Andrei Zhupanov (Russia): Just two weeks after his naturalization, his bank sued him for $ 563 million. The commission notes that it "failed to mention that this case was under investigation and that this may be a criminal offense".
WarAnwar Mikail Sammour (Palestine): It is noted that it is not clear what the correct expiration date of his regular term deposit with a Cypriot bank was and that "if it was less than three years old, the registration or the certificate should be examined 's Andrey Puchkov (Russia): "The timing of his naturalization shows that his ultimate goal was to escape arrest by the Russian authorities." p>
GorIgor Kolomoysky (Ukraine-Israel, naturalization of 2010): "he was a major shareholder of Privat Bank for whom a file had already been created in the Cyprus Police following a request from the Russian authorities in 2008 in connection with a tax evasion case. ……] His naturalization certificate seems to have been obtained through deceit, false representations and concealment of essential facts ". >
oMohammed Abdelrahman Mohamed Salem (Egypt): "it seems that he did not invest the amount he declared for naturalization purposes but a much smaller amount".
AtNatalia Shatalova (Russia): "hid a substantial fact in order to obtain a naturalization certificate". PMir Rahman Rahmani (Afghanistan): "The applicant did not mention his relationship with an Islamic organization. It seems to be a case of deception and/or concealment of important facts ".
erSergei Lomakin (Russia):" hid information from the Ministry of Interior. was accused in 2016 in Russia of large-scale fraud and embezzlement, before its naturalization. "
AlRalif Safin (Russia): "responsible for the possible false statement before the Limassol Registry Office (seems to have signed before a registrar on a date he was not in Cyprus)".
inaLina Zhu (China): It is noted about her husband that "given the imprisonment and conviction of Mr. Zhang, this fact is a concealment of essential information".
, while they had not disclosed their relationship with specific financial institutions. & nbsp;
HamPham Nhat Vu (Vietnam): "stated that he was prevented from appearing in Cyprus and signing his naturalization certificate. "His lawyers invoked professional obligations but he was in fact detained in Vietnam."
►18 investors through a program related to group investments (projects and companies): These are: Alexey Gerasimovich, Vitaliy Kuhta, Vitali Lashkou, Petr Bitiukov, Maxim Chuvalau, Volodymyr Skrynko, Uladzimir Lapo, Tatiana Katselapova, Roman Nesin, Vladimir Suslion Levon Grigoryan, Dzmirty Navitski, Alexandr Tselobenok, Oleg Gotynian, Evgueni Kislyi, Stepan Zoubovski, Uladzimir Kislyi, Marat Karpeka. While meeting the criterion of permanent private residence, "this criterion ceased to be met within one year after naturalization due to the cancellation of the relevant purchase and sale documents."
For Dimitris Syllouris, it is noted verbatim: "The investigation of the files shows that the name of the former Speaker of the House of Representatives seems to be involved in investor applications. Specifically, regarding the applications of Mr. Nikolay Gornovskiy (naturalization of 2019) and Mr. Ali Hilmi Munib Armoush (naturalization of 2018), the possible intervention of Mr. Dimitris Syllouris should be investigated for the purposes of approving their applications and whether an issue arises. abuse of power ".
The course of the investigations
Police have been investigating naturalization cases since last summer. According to statements from the Police, four investigative teams had been formed, while around the beginning of June 10 members of the corps (three non-commissioned officers and seven police officers) had been transferred to the TAE Headquarters in order to assist in the investigations. In addition to the cases that emerged from Nikolatos's finding, the remarks of the committee under the then head of the Hellenic Capital Market Commission, Dimitra Kalogirou (44 naturalizations) were also put under the microscope of the Police. Police sources speak of a three-digit number of cases that are being investigated for criminal offenses, as well as requests for legal assistance to Authorities abroad. From last August until recently, Police officials and the heads of the Legal Service have been holding meetings for coordination. We remind you that one case was brought to justice, the files for four others were forwarded to NY, to which another file is being forwarded very soon.