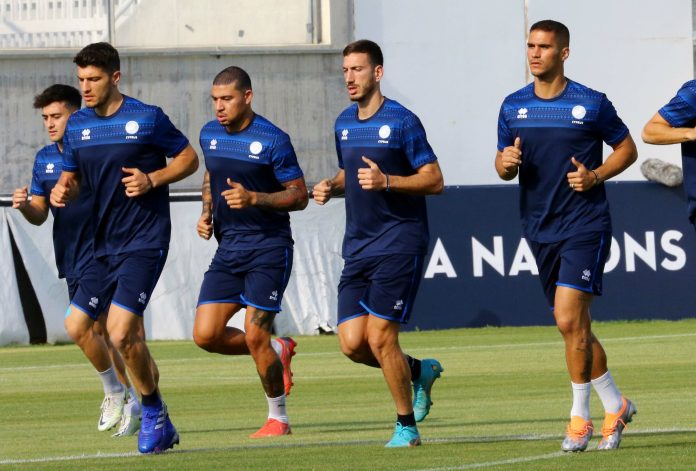 After the draw with Kosovo in the opening game of our National Team in the second group of C & # 8217; Category of the Nations League, our internationals are focused on today's match at the "AEK Arena" (19:00) against Northern Ireland. In the penultimate training session, the day before yesterday, the players trained in different groups, depending on the time they participated in the match against Kosovo, while yesterday they completed their preparation.
In an effort to revive the morale of the internationals Nikos Kostenoglou told them, among other things: "Heads up, there is no time for disappointment. "On Sunday we have a fight and we have to be ready both physically and psychologically."
At our disposal the federal coach are the following footballers: Ioakeim Toumpas, Neophytos Michael, Andreas Christodoulou, Minas Antoniou, Andreas Avraam, Dimitris Christofi, Kostakis Artymatas, Marios Antoniadis, Marios Antoniadis, Marios Antoniadis Ioannis Pittas, Fanos Katelaris, Charalambos Kyriakou, Andronikos Kakoullis, Loizos Loizou, Nikolas Panagiotou, Fotis Papoulis, Nikolas Ioannou, Pieros Sotiriou, Marinos Tzioni, Alexander Gogigis, Konstantinos. changes
It is a given that Kostenoglou will make changes in relation to the eleven he has chosen against Kosovo. However, any players who play are called to remain unaffected by the last game and give their all to get the first points in the group.
The bet
Our federal coach has his own great responsibilities for the person that Ethniki showed last Thursday. So, he has to prove that it was a "bad parenthesis" the last appearance after the success against Estonia last March, when our National team managed to stay in C & # 8217; Nations League category. It is also a bet for him since in case of a new failure it is unknown how the leaders of the KOP will act. Although they were worried some time ago, they decided to support the Greek coach, who is called to justify them. Because, we said, this time it is not certain that they will support him.
Question mark
People are disappointed with the bad start of our National and it is unknown whether he will respond to the call for support today. The fans love the representative band, they proved it many times, but & # 8230; ask for the obvious from our internationals, that is, to give everything in every match for the victory.
The continuation
Except for today's match of the National (Greece will be hosted by Kosovo at 21:45), the continuation in our group includes four more games for Kostenoglou's team: On Thursday 9/6 he will face Greece away, on Sunday 12/6 he will also play away with Northern Ireland, while in the last two games the program is as follows: 24/9 Cyprus & # 8211; Greece, 27/9 Kosovo & # 8211; Cyprus.
Like this:
Like Loading …