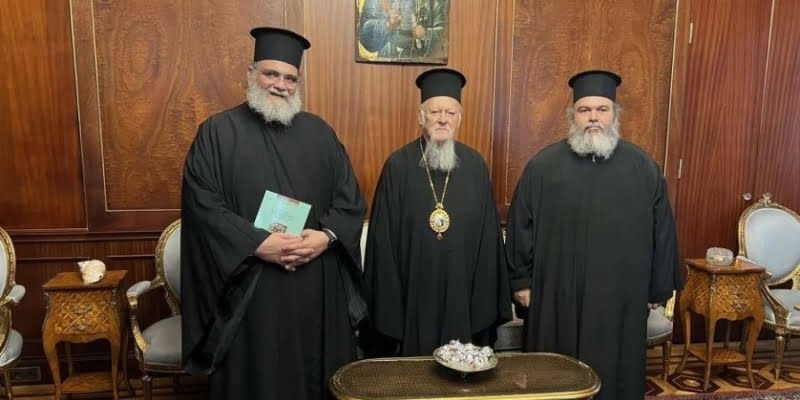 His support for the Ecumenical Patriarch Bartholomew was expressed by the Metropolitan of Tamasos and Orenis Isaias, as he said after the meeting he had with him today in Fanari and his participation in the ritual.
The Metropolitan of Tamasos said that &laquo "with Russia's invasion of Ukraine and the theological facts, we could only support the decisions of the Ecumenical Patriarch". As he said, today's gathering was the seal of this development.
In his statement to KYPE, Metropolitan Tamasos said that he is visiting Fanari following the kind invitation of the Ecumenical Patriarch to participate in the liturgy for the Feast of the Enthronement of the Apostle Andrew and at the same time to ordain Monk Bartholomew to the first degree of priesthood, in this of Deacon.
"It was a very touching welcome from the Ecumenical Patriarch, who also received us in a special audience and conveyed his wishes and blessings. At the same time, we also assured him of the love and support of the Ecumenical Patriarchate, both from the Diocese of Tamasos and from the whole of Cyprus, and then we participated in the Holy Mass and the ordination of the new Deacon Bartholomew, he said.
"We leave with the wishes of His Holiness, who sends to the entire Holy Synod and to the patron his wishes and his love for the world of Cyprus and prays for us. It was a truly moving visit which will remain etched in our hearts for centuries, said Metropolitan Tamasos.
When asked if his participation in the mass, where a representative of the Ukrainian church also participated, means support for the Ukrainian church, Metropolitan Tamassos said that "it is the continuation of our support to the Ecumenical Patriarchate".
As he noted , "with Russia's invasion of Ukraine and with the theological facts, we could only support the decisions of the Ecumenical Patriarch". And today, he added, "with this Holy gathering was also the sealing of this evolution, which of course support and love goes back to the 1990s when we started our visits here in Fanari and our support to His Holiness» .
Finally, Metropolitan Isaiah said that "but today is a special and symbolic day where our personal and ecclesiastical relationships are sealed and renewed and reborn and our support for the Ecumenical Throne and these righteous ones increases privileges».
Source: KYPE