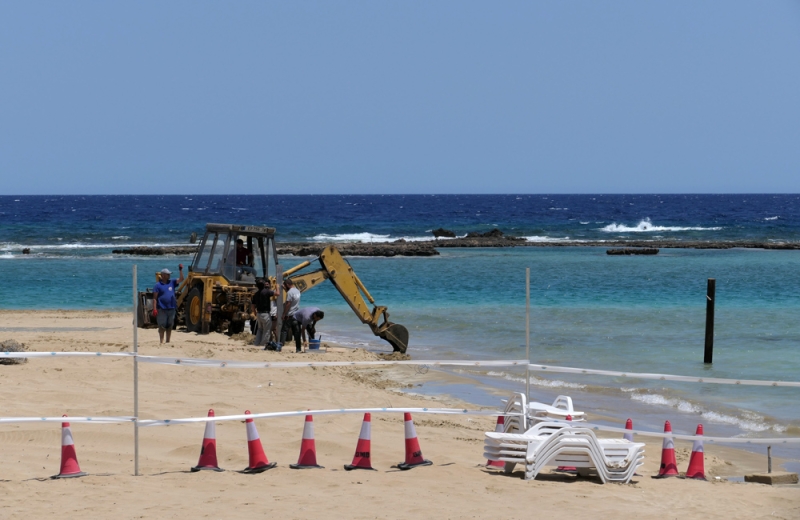 The claims of the Greek Cypriot side that a new beach has been opened in Varosi are not true, Ersin Tatar states in a written statement, claiming that the "municipality" of Famagusta is carrying out some improvement works for safety reasons for the benefit of those who use the open beach. to be used.
As reported by the Occupied Territories, in his written statement Mr. Tatar states that the "e/k administration of northern Cyprus" does not find it right & # 8211; characterizes the government of the Republic of Cyprus – to make these misleading allegations while considering a positive development that the "municipality" of Famagusta is making improvements for the benefit of the public.
"As I have repeatedly stated, the Varosi initiative is a step that will lead the PDK forward both economically and politically," he said, referring to the pseudo-state.
Stressing that they will resolutely continue the new policy (in the Cyprus issue), which provides for the cooperation of two sovereign equal states and which they exercise in full harmony with their motherland Turkey, with the support received from the "people", Mr. Tatar states that it considers it very useful "to draw attention to the fact that we will not avoid taking all the necessary steps for the development of tdbk in every sector in the new period".
Me the opening of Varos on October 8, 2020, he continues, the region of Famagusta was revived and the status of the pseudo-state was upgraded. He notes that despite the pandemic, the fenced area was visited by a large number of local and foreign tourists and characterizes the visit of the President of the Union of Chambers and Stock Exchanges, Rifat Hisartzikliklioglou at the weekend in Varosi "meaningful visit". Reiterates that Varosi "did not open up against international law", states that property can be returned to its rightful owners at the request of the "Real Estate Commission" and argues that this initiative is a important step towards human rights and the elimination of hostage.