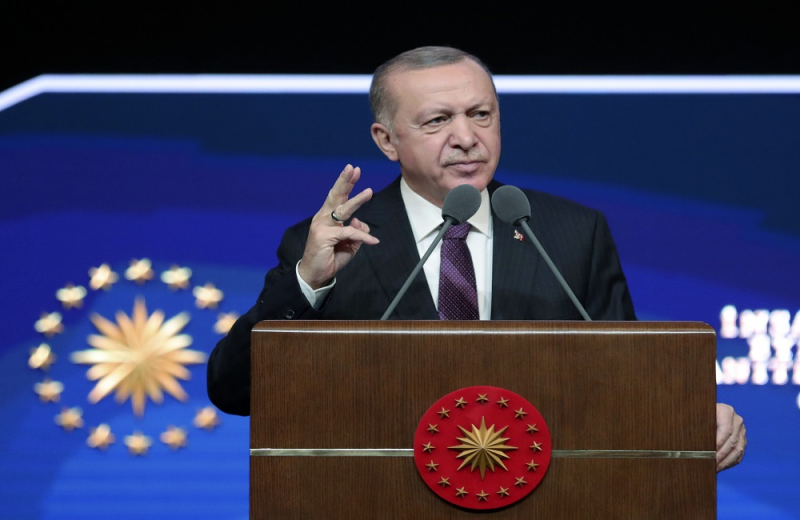 Israeli President Isaac Herzog is likely to pay a visit to Turkey in the first fortnight of February, according to Turkish President Tayyip Erdogan, who said the visit could usher in a new era in Turkey-Israel relations.
In an interview with the Turkish television network NTV and Star, the Turkish President said that "with the agreement we made with Libya, there are important steps that have been taken by our businessmen in Libya at the moment". "It is impossible for any regional project that ignores Turkey in the eastern Mediterranean to be successful. "We already see this reality in our region and we have said it openly," said Tayyip Erdogan. politically motivated duo, aiming to exclude us and the tdbk. "It's gratifying that America is finally seeing this reality."
The Turkish President said: "Of course, we are in favor of inclusive cooperation and a fair distribution in the eastern Mediterranean. We have said it again and again. That is why I proposed convening a comprehensive conference on the Eastern Mediterranean in 2020, but unfortunately there was no response. At the moment we are expecting it ".
Tayyip Erdogan said that "in the meantime, we see, for example, that Israel has taken some steps in this direction. We are ready to take any steps in this area with Israel. In fact, there is talk of a visit by the honorable President Herzog in the first fortnight of February. With this visit, a new era in Israel-Turkey relations can begin. I would like to express this as a positive development ".
"As a result, I believe we are on the threshold of a new era of regional co-operation based on mutual benefit and common interests," he said.
"We will put Turkey-US relations on a positive trajectory"
Regarding his relations with the United States, the Turkish President said that "at the moment, of course, there is a reality that we must all accept together. In world politics, leaders do not exist to make enemies, they exist to make friends. "The more successful you are at making friends, the stronger your country will be."
"My relationship with Biden dates back to the Obama era. He was Vice President at the time. It was also a time when we had a dialogue. My expectations were actually very different. "But after our last meeting in Rome, I believe there will be new developments on this issue."
Regarding the F-35s, Tayyip Erdogan said that the talks are currently moving in a positive direction. "Negotiations are continuing between the Ministers of Defense for the maintenance of the F-16s and the return of the new F-16s. We said good luck to the new ambassador today (yesterday). "I hope we will take these steps quickly in this new process and put Turkey-US relations on a positive trajectory as in the past," he said.
"We are not giving up on the S400
Regarding the S-400s, Tayyip Erdogan said that the process continues. "There is no retreat. No one but us will decide what to take from whom. We will take it. The supply of S-400s is an understanding whose background is hidden within us. In defense, we need to know what to do from the attack, I guess. Nobody creates the defense systems of their country by asking us. "I guess we will not ask anyone," he said.
He added that when he took office, they had a 20% domestic and national share in the defense systems, this increased to 80%. "It simply came to our notice then. Turkey is developing in a very different way, it is getting stronger and we need to get stronger. Because in many places around us there are those who have their own accounts. Especially Greece buys things from many places, France and so on. We also try to be self-sufficient. "In this regard, we continue on our way, strengthening in every case and we will continue," said the Turkish President.