The stylistic appearance of the 27-year-old singer brought her to face hundreds of negative comments
Miss White
Up to this moment we have seen almost all the appearances of the Oscars, and while some of them excited us, there were not a few that we considered indifferent. And while clearly all of them were worthy of comment, whether positive or negative, one of them managed to become viral and thanks to it, the woman who wore it automatically became the rudest guest of the evening. The reason for the white ensemble of the 27-year-old singer and songwriter Tems, who wrote the Oscar-nominated song "Lift Me Up" by Rihanna, for the film "Black Panther: Wakanda Forever".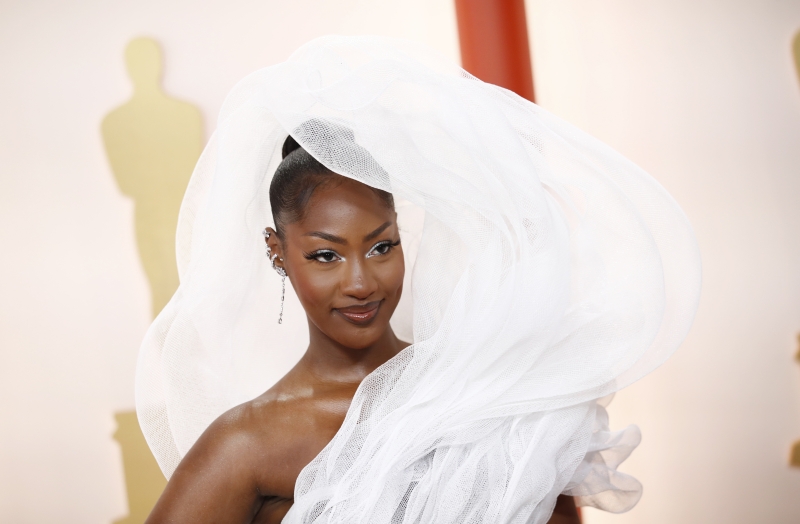 More specifically, the 27-year-old artist appeared in a white dress with a long tail and a huge tulle wrapped around her head. And while her ensemble was clearly very impressive, social media users thought it was over the top and bad, as those sitting behind her wouldn't be able to see a thing.
what people sitting behind tems are seeing #Oscars #Oscars2023 pic.twitter.com/yBgi9ZQQxA

— lasulja (@lasulja) March 13, 2023
This is so disrespectful to the people sitting behind her. #TEMS #Oscars #Oscars2023 pic.twitter.com/rCtcf2asxE

— missiongirl (@missiongirl4) March 13, 2023
"Imagine you've won an invitation to the Oscars and find out that the position you are behind Tems' was one of the comments we saw on Twitter, while another user noted: 'What do people sitting behind Tems see?' and posted next to her photo another with a white curtain.
I'm cryinnnnnnn

tems got that lady fighting for her life pic.twitter.com/Js06VdbyyU

— alex medina (@mrmedina) March 13, 2023
"What… is Tems wearing? Does she get married at after parties?' joked someone else, while another comment read: "I can't help but laugh because every time I see Tems, I know the people behind her are furious."
Note, however, that there were several users who defended Tems, with one of them writing: "If you sit behind the greatness known as Tems, then maybe you're not that important." "This is not a Tems thing," said another, with a third adding: "That's the Queen." "Consider yourself lucky to even be sitting on her back," someone wrote.
Imagine waiting your whole life to be at the Oscars and you end up sitting behind a stratus cloud. pic.twitter.com/HQ8lSYQBUV

— Jarrett Bellini (@JarrettBellini) March 13, 2023