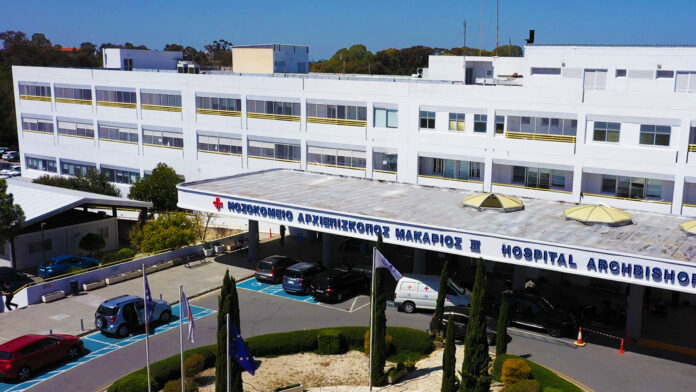 The State Health Services Organization (OKYpy) is proceeding with the significant upgrade and expansion of the Archbishop Makarios III Hospital, implementing its announcements, which aim to upgrade the services offered at the country's only tertiary hospital for mother and child.
In this context, the Organization has proceeded with the announcement of the tender for the study, construction and twelve-year maintenance of the project which includes renovations, extensions and upgrades of the Makarios Hospital.
More specifically, the upgrade will include the construction of a new building that will be located on the south side of the existing hospital and will consist of a basement, ground floor, 1st floor and 2nd floor. 36 parking spaces and 6 parking spaces for the disabled will be created in the basement of the building.
On the ground floor, a specialized Accident and Emergency Department for Children (TAEP Children) will be created, significantly enhancing the care children receive. In the Department, with a total area of ​​1571 m², there will be 10 examination beds, a recovery room with two beds, a septic surgery room, an isolation room and a cast room. playground and other supporting areas. The building will have internal elevators to connect the TAEP Children's area with all the Departments of the New Building. Also, each new floor will have a connecting bridge with the existing building.
The Pediatric Neurology Department and the Rare Diseases Department will be housed on the 1st floor of the Hospital with a total area of ​​1660 m². The 2nd floor will house the Burns Department and the Surgery with a total area of ​​900 m². With the upgrades, the Gynecology-Obstetrics Departments as well as the Pediatric Surgery Department located on the same floor will be completely renovated. The renovations will include, among other things, the creation of single hospital rooms.
The total estimated value of the project amounts to €28,340,000 + VAT and part of the Project is financed by the EU Recovery and Resilience Mechanism. within the framework of the Cyprus Recovery and Resilience Plan for the amount of €19,370,440, €2,332,000 and €1,723,560 respectively (total funding €23,426,000) excluding VAT.
The Hospital "Archbishop Makarios III" is the only specialized hospital that covers the needs of mother and child in Cyprus and acts as a point of reference for difficult and complicated cases.
For more information visit the website (https://shso.org.cy/hospital/nosokomeio-archiepiskopou-makareiou-iii/) of the Hospital or contact 22405000.