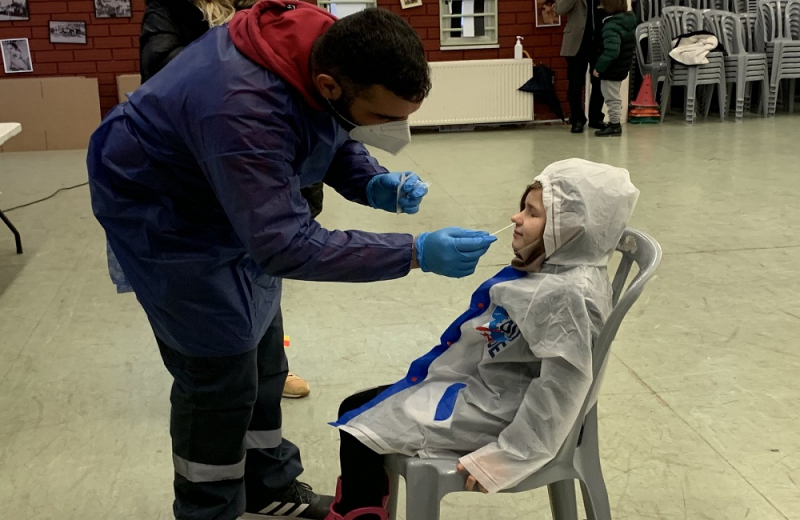 The wide-ranging meeting, which took place on the afternoon of Monday, January 31, in connection with the implementation of the "test to stay" measure in schools, was completed. The meeting was attended by the three educational organizations and the Confederations of Primary and Secondary Education Parents. The Ministers of Education and Health, Prodromos Prodromou and Michalis Hadjipandela, stated that the measure will now be implemented in the Lyceums, while they explained that there is a plan B and C, with the inclusion of pharmacies, if further reinforcements are needed.
According to the evaluation made during the meeting, the measure pays off, as it has allowed thousands of students to be in schools and not miss classes. According to Prodromos Prodromou, after the decision to implement the measure in high schools, it is being discussed, without any decision, whether the measure can be applied to teachers, which will prevent many absences due to the need for self-restraint. contacts, while the increased need for replacements will be addressed. The date of its application to teachers, the decisions that will be taken by the educational organizations are expected, added the Minister of Health, Michalis Hadjipandela.
Asked if a solution was found to the problem that arose earlier, with the delays of the workshops and the suffering of parents and students, the Minister of Education said that, now, there will be sampling workshops in all schools in urban areas, so that parents do not have to move.
The Minister of Health, in turn, said that contacts were made with the president of the Pharmaceutical Association, Dr. Eleni Piera Isseyek, who expressed the readiness of pharmacies to assist in the implementation of the test to stay, however they will be mobilized although if necessary. He also said that if the need is so great, sampling centers, which concern all citizens, will start working very early in the morning, so that they can serve the students as well.