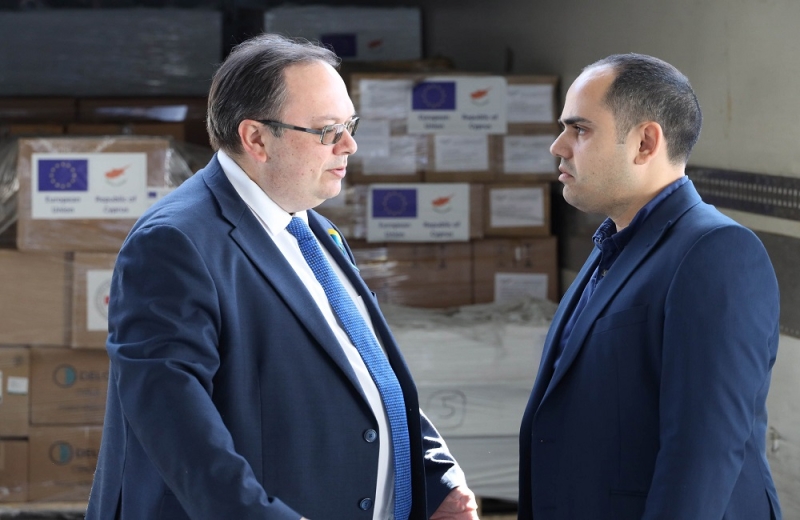 The 3rd package of humanitarian aid of Cyprus for Ukraine departs from the port of Limassol on Saturday, with the Citizen's Commissioner, Panagiotis Sentonas thanking all those who have assisted and the Ukrainian Ambassador Ruslan Nimchynskyi to express his respect and gratitude λαό.
In the morning, the two men visited the warehouses where the material is being managed, which, as Mr. Sentonas said, mainly concerns medical equipment, such as respirators, defibrillators, first aid supplies, medicines offered by the Cyprus Red Cross, but also firefighting uniforms sent by the Cyprus Fire Department.
The mission, he continued, departs tomorrow and after arriving in Thessaloniki, will end up at the Humanitarian Aid Center created by the European Mechanism Civil Protection, in Romania.
"I want to thank everyone who contributed to this effort and there are many. They are the Municipalities of Cyprus, the communities, organized groups, companies and others ", said Panagiotis Sentonas, while he also thanked the competent services of the state, the Ministry of Foreign Affairs, the Civil Defense, the Port Authority, the National Guard and the company Amathus Aegean, which all these months offers its spaces to prepare the material for the shipment.
For his part, the Ukrainian Ambassador expressed "deep respect and gratitude to all Cypriots, to those who have contributed so much for the humanitarian aid packages that have already been sent to Ukraine and especially for it."
Also thanking the Citizen's Commissioner for his effort, Mr. Nimchynskyi said that, today, "we can say that the Cypriot and Ukrainian people have very cordial and deeply rooted traditional relations".
"More than seven million Ukrainians are now in great despair, so we are helping those – women, children, the elderly – who are suffering as a result of this barbaric invasion and many people in need of immediate help," he added.
The Ukrainians, he noted, know that the Cypriots feel their pain and their own pain.
Besides, the spokesperson of the Civil Defense, Olivia Michailidou stated that Civil Defense continues to be in contact with the European Union Directorate, which is responsible for sending humanitarian aid.
"Through the European Civil Protection Mechanism, we are informed for the needs that exist, so that they can be collected by public services, private bodies, voluntary organizations but also ordinary citizens, items that are necessary ", he said.
He finally confirmed that "Cyprus will continue to assist in every way, to provide humanitarian assistance to alleviate the victims of this conflict ".
Source: KYPE