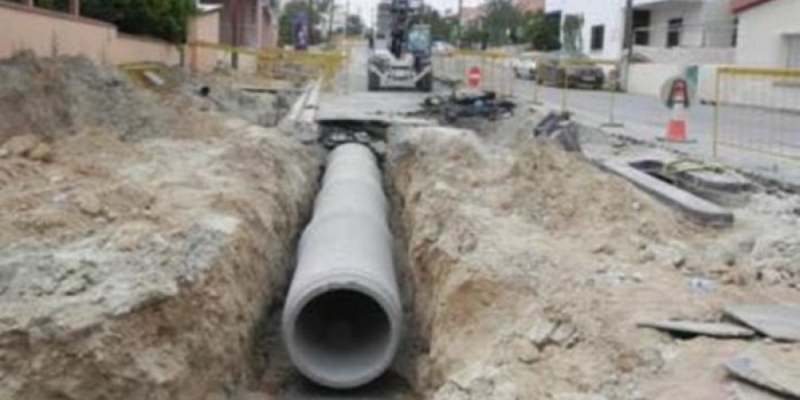 The Larnaca Sewerage Council (SAL) announced the tender for the C' Phase of the Larnaca Sewerage System, which concerns the service, with a sewage system, of the Municipality of Dromolaxia – Meneo and the Communities of Kiti, Pervolia and Tersefanou.
In an announcement by SAL, it is stated that the project concerns the study, construction, operation and maintenance of the eight central sewage pumping stations and the four local sewage pumping stations, including their auxiliary works and the required interconnection works, with the external sewage networks and the central depression pipelines, which will be constructed within the framework of independent Contracts.
Construction Contract C5 "is part of an overall planning study and construction of waste collection projects of the Municipality of Dromolaxia – Meneo and the Communities of Kiti, Pervolia and Tersefanos and transferring them to the existing Wastewater Treatment Plant of SAL, which constitute the Project of C' Phase» is added.
According to the announcement, "this is an important project, which is being implemented by the Larnaca Sewerage Board, with which Cyprus will comply with the European Legislation (Directive 91/271 as applicable), as well as with the sustainable development goals of Agenda 2030 of the UN which the Republic of Cyprus has co-signed and participates in.
The Project will be built with co-financing from the European Union, through the Political Cohesion Fund of the "Th.Al.E.I.A." Program. 2021-2027». The Contracting Authority/Contracting Body is the Larnaca Sewerage Council with the Project Implementation Body the Water Development Department.
It is noted that "the construction works of Contract C5 are expected to start in September 2023 and will last 36 months and extra five years for operation and maintenance with the right to renew the operation and maintenance period for another five (5) years. The study and the tender documents were prepared by the Consortium "Roikos Consultants Engineers Anonymi Etairia– Z&A P. Antonaropoulos and Associates Anonymous and Research Company», who will also undertake the supervision of the projects while SAL will coordinates the projects».
The total budgeted value of construction Contract C5 amounts to 9.9 million euros (plus VAT) and will be co-financed by the Cohesion Policy Funds of the European Union, by National Resources and by the Larnaca Sewerage Board .
Source: KYPE