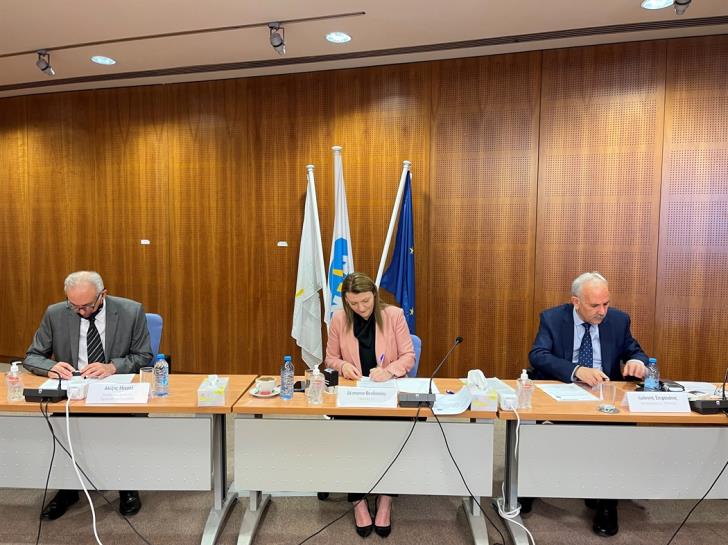 & nbsp & nbspInsider & nbsp; & nbsp;
An important contribution to ensuring the adequacy of electricity production is the agreement for & nbsp; the construction of the 6th Electricity Generation Unit of the EAC in Vasiliko.
An important cooperation agreement, between the Cyprus Electricity Authority and TERNA SA, was signed on Wednesday, February 16 at the EAC Headquarters, by the Chairman of the EAC Board of Directors, & nbsp; Mrs. Despina Panagiotou Theodosiou and the Vice President of TERNA SA, & nbsp; Mr. Ioannis Stefanatos, in the presence of the Director of Energy, Mr. Charalambos Roussos who represented the Minister of Energy, Trade and Industry.
READ ALSO: & nbsp; Cyprus: In the top three fossil fuel dependence in the EU
The object of the agreement is the construction of the 6th Electricity Generation Unit at the Vasilikos Power Plant, which is part of the Development Program of the Basic Regulated Generation Activity. & Nbsp; The new, modern and efficient Production Unit, with a capacity of 160MW, will be added to the existing total production capacity of the EAC, from conventional Units, and will help ensure the adequacy of electricity production and ensure the necessary backup. & Nbsp; The Unit will consist of two gas turbines, two heat recovery boilers and a steam turbine, with a total maximum capacity of 160MW, and will operate on natural gas as the main fuel, while it will also be able to operate on refined diesel as an alternative fuel. . & nbsp;
The EAC, following all legal procedures, announced within 2020 a Community Tender for the installation of the new Combined Cycle Gas Turbine Unit at the Vasilikos Power Plant. & Nbsp; The bids were submitted within September 2020 and the tender was awarded within 2021 to the company TERNA SA & nbsp; The Project includes design, procurement, installation, inspection and initial operation. & Nbsp; Based on the completion schedule of the Project, the new Production Unit is expected to be put into commercial operation before the summer period of 2024.
The Tender also includes the signing of a Contract with the construction company for the long-term maintenance of the two gas turbines of the new Unit, until the completion of their first major maintenance.
On behalf of the Minister of Energy, Trade and Industry, the Director of Energy,
Mr. Roussos confirmed the support of the Ministry to the diverse plans of the Cyprus Electricity Authority, which are related to both the development of production and transmission and distribution networks. The ultimate goal of the Ministry is the uninterrupted supply of electricity and the gradual transition of our country to green energy. & Nbsp; According to Mr. Roussos, "The EAC is the main energy pillar of the country, whose driving force comes from the remarkable staff of the organization. The people of the EAC are constantly proving that they can work in an organized, flexible and professional manner, implementing the requirements for the well-understood interests of the Republic of Cyprus. "
The President of the Board of Directors of the EAC, Ms. Theodosiou stressed that: "In a wider environment that is constantly changing, the EAC is preparing rapidly to help ensure the adequacy of production of a vital good, such as electricity. We look forward to the arrival of natural gas and at the same time we are committed to the goal of utilizing RES. & Nbsp; In an era of great and complex challenges, the EAC is investing not only in its future, but also in the energy future of Cyprus. Because the development project of the EAC is a project that expands the energy horizon of our place. Creating new conditions for progress and prosperity for all ". & Nbsp;
On behalf of the company TERNA SA Mr. Efstathios Natsis, Director of Development of Foreign Affairs stated that this project is very important for the EAC and the Republic of Cyprus in terms of National energy efficiency and modernization and environmental upgrading of the place. & nbsp; He also made special mention of the fundamental cooperation of the company TERNA SA with the company SIEMENS that will supply the equipment of the Unit and which was represented by Mr. Michalis Kioumourtzidis, Director of Energy Projects for Greece and Cyprus. & nbsp; Mr. Natsis assured that the construction skills and excellence of TERNA, in combination with the reliability of SIEMENS, are the guarantees for the construction of the 6th Unit in the best way and to be a technological jewel for the EAC and the Republic of Cyprus./p>