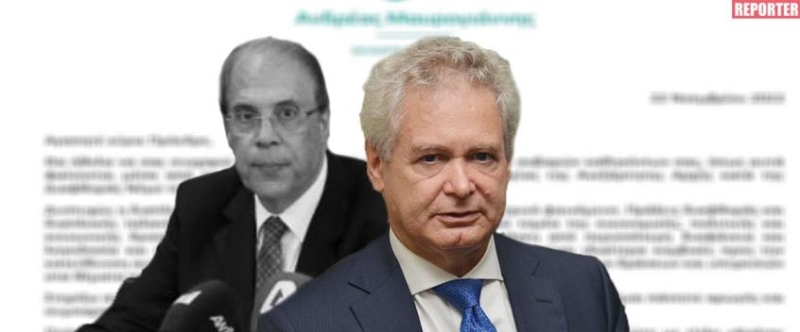 The Independent Anti-Corruption Authority begins an investigation into what is recorded in the book "Mafia State", whose president, Haris Pogiatzis, states that a group is expected to be set up that will first read the book and then define the scope of the investigation, while it sends the message that research will not remain on the shelves. The Anti-Corruption Authority responded to the letter of the candidate for President Andreas Mavroyiannis, who was the one who requested an investigation, but which was agreed to by the President of the Republic, Nikos Anastasiadis, who also sent a relevant letter.
The Transparency Commissioner, Haris Pogiatzis, after thanking Andreas Mavroyiannis for his interest, reminds that the last letter of the candidate for President was preceded by the first Letter dated November 22, 2022, as well as the meeting the Authority had both with Andreas Mavroyiannis, as well as with Members of the Electoral Staff, at the Offices on November 28, 2022, for the same issue. At the same time, he reminds that a similar request has been submitted to the Authority by the President of the Republic of Cyprus with a relevant Letter dated November 29, 2022.
Haris Pogiatzis reminds that all the above dates did not have yet to establish the Regulations of the Authority which provide for the procedure for examination of complaints or ex officio investigation. The Regulations in question entered into force on December 16, 2022 and immediately after that date, the Authority began the preliminary examination of complaints that had been sent since July, 2022.
At this point, Mr. Pogiatzis continues, "we should point out the difference between a complaint and an ex officio investigation. In cases of complaints, it is the complainant himself who determines the scope of the Authority's investigation. In cases of ex officio investigations, it is the Authority that takes the actions in question".
For the specific case of the book "Mafia State", he states that, "a group consisting of Members and/or Officers of the Authority should be appointed which will study the book which consists of 281 pages and determine the points at which limit the investigation". Finding. This will facilitate the investigation which will be targeted and will focus on specific allegations of corruption". week.
"What we wish to assure you is that the Authority's investigation into the book "Mafia State" will be conducted and will not remain on the shelves. The same will apply to all future investigations conducted by the Authority. In the present case, there will be publication of the actions of the Authority as well as the findings of the Decision that will be issued. Efforts will be made to complete the above actions as quickly as possible", concludes Haris Pogiatzis.